Born to Sing - "Ry"
Pop Artist Ry makes a strong presence in the pop/urban music scene.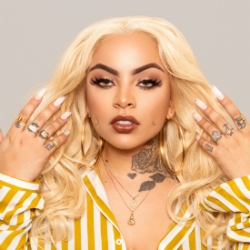 Los Angeles, CA, November 03, 2018 --(
PR.com
)-- Ry is an American singer whose music is in the style of Urban Pop culture. Her voice has a smooth tone with a wide vocal range.
Ry was born in Chicago, IL and then moved to Long Beach, CA in 2001, in which she joined a long line of musicians displaying a natural singing ability at a very young age. Ry attended Jefferson Middle School, and by recommendation of the school's choir director, was then accepted into, and graduated from Renaissance High School for The Arts in Long Beach. Her first performance at Renaissance was in the production of "Grease." From that point, Ry was then invited to audition, and became a member of the POP/R&B girl group formally known as "HerStory." During this venture, she gained significant exposure by doing live performances and appearances in events such as The High School Tour, Glory Fight, California Dance Festival, Sheikh's Music Lunch Time Tour, Cali Dance Festival, LAPD Children's Day Show, Backyard House Party, DJ Carisma "Cookie Jar" Hosted By Abby, and many more. One of the most exciting and memorable experiences for Ry with HerStory was her acapella performance of "Whose Loving You" for the award-winning songwriter, Diane Warren, spontaneously at an elevator in a parking garage.
Throughout many experiences within the music industry, Ry interacts with, and inspires many young artists to stay focused and follow their dreams. Ry is now a solo Pop Urban artist who works tirelessly every day, with the support of her family, to continue pursuing her music career. She is a true artist who is inspired by music legends in many genres: Karen Carpenter, Mariah Carey, Beyonce, Boyz II Men, Mini Riperton, Whitney Houston, Adam Levine, and Julia Michaels, just to name a few. She has a true midwestern heart with a dream of making magical music that she can share with the world.
Ry is now working heavily to release her new EP that is set to debut in the early Spring of 2019.
For more information, booking requests, promo requests, or to arrange an interview, contact:
Ry Management (rydopemusic@gmail.com)
www.rydope.com
Contact
1st Page PR
Lauren Marano
310-737-8992
www.1stpagepr.com

Contact