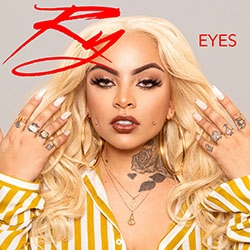 Los Angeles, CA, November 03, 2018 --(
PR.com
)-- American Pop singer Ry has released her new hit single "Eyes." The song is the first to be released from her new EP coming in the early Spring of 2019. "Eyes," which was released and distributed by Tommy Boy Entertainment and dubb Records, can be found on all platforms for streaming and download.
"Eyes" is a song about a woman who is in a scorn relationship. Fed up with her cheating significant other, the singer confronts and puts him on blast as she tells him to: "Look me in my eyes when you break my heart"; "It's the last time you come around."
Eyes is already being played on 16 different radio stations across 16 major cities within the US and the list is building.
"Eyes" can be downloaded here: www.smarturl.it/ry_eyes
The writers and producers of "Eyes" are:
Producer(s):
Off The Gr!d (Richard Vission & Loren Moore)
Additional production by Jason Robinson
Executive Producer(s): Anthony West (A-Dubb) dubb Records
Vocal Producer(s): Alma Goodman
Engineer(s): Luis Moreno
Songwriter(s):
Richard Vission
Riley Biederer
William "Will Jay" Behlendorf Loren Moore
Jason Michael Robinson
For more information, booking requests, promo requests, or to arrange an interview, contact:
Ry Management (rydopemusic@gmail.com)
www.rydope.com