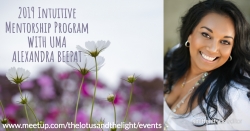 Manassas, VA, November 27, 2018 --(
PR.com
)-- This event is an annual program that has been going on since 2012 at Lotus Wellness Center under the owner Uma Alexandra Beepat's guidance.
It is an 8 month program for anyone who wants to develop their intuitive skills as well as understand their spiritual path and purpose in life. It is a deeply transformational and enlightening program that brings clarity, focus and healing to each participant.
Classes are offered once a month on a Saturday from 10am-2pm. The first class is set for Saturday January 5th and the other dates are provided to students at the beginning of the program.
Topics covered in the program include manifestation, law of Attraction, energy work and energy protection methods, ayurveda and yogic sciences, chakras, numerology, astrology, the angelic realm and shamanism. At the end of the program, students will take part in a practical before graduation.
There are only 20 spots available in this annual program; to find out more about it, please visit: http://bit.ly/umamentorship2019
There is also an online version of the program for those not in the DMV area. Check it out here: http://bit.ly/umaonline2019