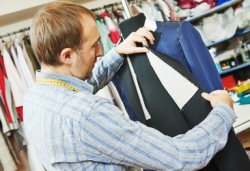 Los Angeles, CA, November 19, 2018 --(
PR.com
)-- My Custom Tailor, a leading online bespoke tailor specializing in custom made suits for men and women, is announcing Thanksgiving offers on their site this November. Available under the Deals & Specials section as
Special Offers
, clients can celebrate the holidays in style by taking advantage of the discounted pricing on custom suits, shirts, pants, vests and more.
Among the Thanksgiving offers are:
An example offer for men: a
Men's Suit, extra pants and shirt from the Classic Collection
, on sale for $525 with a free necktie to match.
An example offer for women: two suits, a
Women's Pant Suit and a Skirt Suit from the Classic Collection
, on sale for $685 with 2 silk scarves thrown in.
For custom made clothing on sale, clients may select the fabric, style and color, and use the special request option to indicate any changes or special requests to their custom piece.
Offering thousands of styles from which to choose,
MyCustomTailor.com
aims to configure and assemble a wardrobe that meets clients' specific measurements and preference for fabrics and styles. With the number of holiday parties on the rise, "My Custom Tailor seeks to provide its clients with quality, high value fashion at an affordable price," says marketing officer Richard Dawson.
As master tailors for men and women, with over 150 years of experience, My Custom Tailor knows what goes into expertly tailoring men's and women's custom suits. Their high standards of production are further explained here:
https://www.mycustomtailor.com/standard-in-perfectly-tailored-mens-suit
Apart from the already heavily discounted offers, all new customers will receive an extra 20% off their first order.
For more information about My Custom Tailor, go to their website here:
https://www.mycustomtailor.com/online-tailor-women-and-men-custom-suits
Social media pages:
Facebook: https://www.facebook.com/customclothier
Pinterest: https://www.pinterest.com/mycustomtailor0833