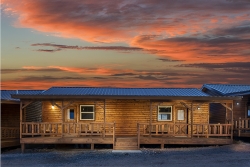 Peach Springs, AZ, November 19, 2018 --(
PR.com
)-- Hualapai Ranch Cabins Allow Guests to Experience the Canyon at Sunrise and Sunset, See the Stars and Share Campfire Stories
Grand Canyon West (GCW) continues to expand the range of adventures and experiences available to the 1 million guests who annually visit the West Rim of one of the World's Seven Natural Wonders. With overnight stays in the Hualapai Ranch's 26 rustic cabins always a hot commodity, GCW has opened 18 additional cabins along the edge of the West Rim for visitors who want to spend the night amid the stars while listening to the distant howls of coyotes.
Sixteen of the new cabins have been built to accommodate two guests each. Two new cabins can house a maximum of eight people in rustic comfort. Each of the 18 new buildings has a microwave oven and a refrigerator, as well as late night access to the Hualapai Ranch restaurant for beverages in the wee hours.
The two-person cabins rent for $141.90 per night (tax included) for up to two guests. The larger cabins rent for $185.90 (tax included) for up to six guests. Each of the two-person cabins offer a queen bed, bathroom with shower and exclusive toiletries, hanging space, and front porch with chairs. All cabins are 100% smoke-free.
Overnight stays include breakfast at the Hualapai Ranch restaurant.
"The Old West feel of the cabins has proven incredibly popular with guests from around the world, so we want to give more visitors the chance to experience a night along the West Rim," said Colin McBeath, the CEO of the Grand Canyon Resort Corporation. "The nightly family activities are terrific – time around the campfire telling stories of the Old West and making s'mores. And the pitch-black night skies makes the West Rim the perfect spot to see the stars like virtually no place else in the world."
To schedule FAM tours or interviews, contact David Leibowitz at 602-317-1414 or
david@leibowitzsolo.com
. For more information about Grand Canyon West, visit www.GrandCanyonWest.com