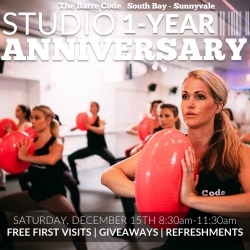 Sunnyvale, CA, November 30, 2018 --(
PR.com
)-- The Barre Code South Bay - Sunnyvale is ready to celebrate 1 Year of Barre! The Barre Code South Bay- Sunnyvale is a boutique fitness studio located at 415 N. Mary Ave., Suite 110, Sunnyvale, CA 94085.
Within one year, The Barre Code has made an impact within the community, supporting Dress For Success, The Joyful Heart Foundation, Girls On the Run, and The Longest Day in effort to not only sweat with their local community but to give back and support it.
The Barre Code brings the area a one-stop shop for cardiovascular conditioning, strength training, and restoration. A program where you can expect to be challenged beyond the physical workout through a powerful formula of empowerment and positivity that builds strength from the inside out.
"We are excited to celebrate our 1 Year Anniversary of helping our community live a happy and healthy lifestyle," said Rachel Humm, owner and instructor of The Barre Code South Bay - Sunnyvale. The Barre Code Fitness Program raises the barre on health and wellness for busy professionals, moms, students and everyone in between looking to become the best versions of themselves, to find balance, and to join a community that empowers them.
To celebrate, The Barre Code will be hosting free classes for 1st time visitors and members Saturday, December 15, 2018, featuring treats, games, raffles, membership deals, and much more.
Class Schedule
8:30 am: Total Body Conditioning
9:30 am: Barre Code
10:30 am: Barre Code
"We are looking forward to meeting everyone at the barre to show how we continue to Raise The Barre on Healthy Living," Rachel Humm added. "The Barre Code offers the most effective fitness program that caters to everyone's needs, while providing an environment that nurtures a strong community. We encourage everyone to stop by for the celebration, and check out our inviting studio to take advantage of our special offers."
Find your strength at The Barre Code South Bay - Sunnyvale seven days a week.
For more information on The Barre Code South Bay Anniversary Celebration, please visit
http://bit.ly/TBCAnniversaryClasses
or email sunnyvale@thebarrecode.com