ax-water Changes the Hydration Game with Aronia Berry
ax-water contains three times more antioxidants than blueberries. It is infused with the aronia berry, which has an impressive list of health benefits.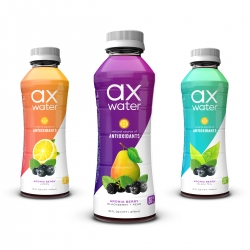 Fargo, ND, December 05, 2018 --(
PR.com
)-- ax-water, a U.S. company that launched in March of 2017, has changed the beverage industry by bringing their aronia berry-infused water to the market and growing its production internationally. The benefits of this superberry are abundant which is why it is the main ingredient in ax-water.
- Highest concentration of antioxidants
- Can improve urinary tract health
- Helps improve blood flow and blood vessel strength
- Known to reduce the risk of heart disease
- Aids in easing gastro/stomach issues
- Anti-inflammatory properties
- Contains a large amount of carotene, which can protect eyes from cellular damage
- Helps to control weight, cholesterol and lipid levels
- Rich in fiber
"The aronia berry has long been used for medicinal purposes in Eastern Europe," stated CEO, Blake Johnson. "In Western areas, it is still largely undiscovered, but we created the secret sauce (water) with it."
ax-water is made from all natural ingredients and contains no erythritol, preservatives, artificial coloring or flavoring. It is low in sugar and contains only 30 calories per 16 oz. bottle. This bright, refreshing hydration alternative is accessible to anyone looking to combat the effects of free radicals and enhance recovery.
"ax-water customers are daily drinkers of the product," noted Gavin Linde, VP of Sales. "We are proud of everything that is in the bottle. And seeing the growth since our launch, we know that people are understanding the power of the aronia berry."
About ax-water: Blake Johnson, CEO and a Civil Engineer by trade, has farmed aronia berries as a hobby since 2012. In light of their significant health benefits, he teamed up with Wade Gronwold, COO to bring awareness of aronia berries to the general public. ax-water was born. The company currently has three flavors and is selling internationally.
ax-water also received three awards at the 14th Annual Zenith Bottle Water Congress in Barcelona, Spain, in November of 2017 - 2nd place for Best Functional Beverage, 2nd place for Best New Water Concept and 3rd place for Best New Brand/Brand Extension. In addition, in a survey carried out by a panel of judges, ax-water was chosen Most Likely to Succeed in the Entrepreneur Panel.
Read about ax-water at
www.drinkaxwater.com
.
Contact
ax-water
Blake Johnson
701-306-7069
drinkaxwater.com

Contact