Cruise Planners-Unique Family Adventures Travel Advisor, Starr Wlodarski, Was Among First to Experience Newest Cruise Ship, Celebrity Edge
Wlodarski was one of the first travel advisors to experience the most anticipated new cruise ships in years.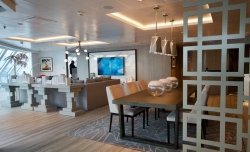 Perrysburg, OH, December 10, 2018 --(
PR.com
)-- As part of the Cruise Planners Annual Convention, Wlodarski, sailed on the "edgiest" ship at sea.
Sailing on the inaugural launches of the latest cruise ships is an honor reserved for top travel industry insiders. This year, local travel agent, Starr Wlodarski, had the privilege to be among the first to sail on Celebrity Cruises' newest cruise ship, Celebrity Edge. This elite invite was part of Cruise Planners' annual convention, which was dubbed "The Greatest Show" and kicked off Cruise Planners' 25th year in business.
"Sailing on the newest ship in the industry that incorporates the beauty of modern design and edgy entertainment was a thrill," Wlodarski said. "I want my clients to know that they have access to the best in the industry and now I have first-hand knowledge of it."
Wlodarski was one among 500 travel advisors who were able to tour some of the luxury suites such as the Iconic Suite, well-appointed with full bathrooms and wrap-around balconies. Edge is the prototype for an innovative new series of ships at Celebrity called the Edge Class. Designed to be oriented to the ocean in a way that is unusual for big vessels, it boasts several features that are groundbreaking not just for the line but the industry.
"I highly recommend the onboard suites," Wlodarski said. "The benefit of planning your trip with a travel advisor is that I'll help make sure you're getting a personalized vacation at the best value and I'll be there throughout the entire process to make sure everything goes smoothly."
On a daily basis, Cruise Planners local franchise office creates customized vacations – from cruises to land vacations for their clients. Travelers can now book the Celebrity Edge, which was christened by Godmother, Malala Yousafzai, who is a 19-year-old Pakistani woman who received the Nobel Peace Prize for her advocacy of girls' education.
About Cruise Planners
Cruise Planners, an independently owned and operated home-based franchise, is part of the American Express Travel Representative network and the nation's largest home-based travel agent franchise company in the travel industry. Cruise Planners' travel professionals independently book amazing vacation and travel experiences for their clients around the world. Cruise Planners franchise owner Starr Wlodarski is based in Perrysburg, OH and specializes in Luxury and Group Travel. For more information, please visit uniquefamilyadventures.com.
Contact
Unique Family Adventures
Starr Wlodarski
419-874-4222
uniquefamilyadventures.com

Contact