Glass Bottle Decorator Has Completed Expansion - Supporting Craft Beverage Market
Expansion for Glass Decorator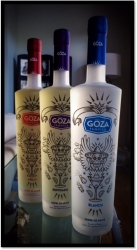 Portage, WI, December 10, 2018 --(
PR.com
)-- Loggerhead Deco, a leading award winning decorator of screen printed glass bottles since 2010, has completed another growth plan. The move to Wisconsin provided the additional space required for the company's growth. The company also successfully consolidated the Illinois operations into this one facility. The two shift operation is fully functional with the installation of a multicolor Kammann K15-M CNC production line and a Kammann K1 CNC. The operation now has multiple printing lines and a spray/frost line that is dedicated to a "green" decorating process with world class capabilities.
These state of the art machines are the most advanced decorating machines in the world for decorating glass bottles at high speeds. Providing full CNC technology allows for perfect print registration. The machine is capable of printing full bottle coverage on round, oval and square shaped bottles in addition to printing on the neck. The Kammann enhances the capability to provide detailed printing along with process color printing (CMYK).
This equipment further demonstrates Loggerhead's commitment to the green movement and the reduction of packaging carbon footprint. The facility is setup to decrease or eliminate VOC (volatile organic compounds) from the decorating process by utilizing highly efficient ultraviolet light (UV/LED).
"The markets we service require us to provide leading edge decorating capabilities along with a high awareness of our environment. These machine provide all of that ability and so much more to our current decorating capacity," says Steve Gilbertson, Loggerhead's Founder and CEO. "We have already been experiencing growth with this expansion and have seen multiple customers grow because of this effort. The future is very exciting."
Loggerhead provides industry leading glass decoration services such as screen printing, bottle frosting and fulfillment services to the wine & spirits, beer, specialty food and beverage industries. Customers are spread across the United States and other countries. To learn more visit http://www.loggerheaddeco.com.
Contact
Loggerhead Deco
Steve Gilbertson
630-488-9426
www.loggerheaddeco.com

Contact