PINC Receives a 2018 Supply & Demand Chain Executive Green Supply Chain Award
Leader in digital yard management recognized as role model for supply chain green initiates by leading publication.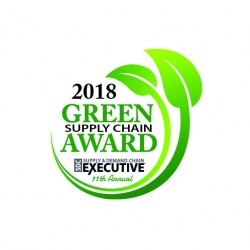 Union City, CA, December 12, 2018 --(
PR.com
)-- Supply & Demand Chain Executive, the executive's user manual for successful supply and demand chain transformation, has selected
PINC
as a recipient of an SDCE Green Supply Chain Award for 2018.
The Green Supply Chain Award recognizes companies making green or sustainability a core part of their supply chain strategy, and are working to achieve measurable sustainability goals within their own operations and supply chains. The awards also recognize providers of supply chain solutions and services assisting their customers in achieving measurable sustainability goals.
This year's 10th-annual awards recognize small, mid-size and large enterprises that leveraged green practices and solutions to further drive sustainable improvements in their supply chain.
By leveraging Real-Time Location System (RTLS) technology, powered by IoT and a digital
yard management software
, PINC has been able to help companies accelerate spotting and shuttle moves by 100%, optimize yard truck and shuttle move distances by 50%, increase the control of refrigerated trailers, reduce truck driver idle times by accelerating check-ins and check-outs, eliminating trailer search times, and reduce the amount of heavy equipment used in their supply chain operations. Additionally, as PINC collects shipment and trailer visibility information across the supply chain we enable better collaboration which results in reduction of empty miles, consequently, decreasing the carbon footprint of the operations between customers and their carriers.
"This year's award recipients place a critical emphasis on green initiatives within their companies and supply chains," says John R. Yuva, editor for Supply & Demand Chain Executive. "Entries provide examples of innovative approaches and impressive metrics of sustainability programs.
"We congratulate PINC for their commitment to sustainability and recognize their tremendous achievements," Yuva adds. "Our honorees serve as role models for supply chains globally to expand their reach and impact of green leadership."
"Helping our customers meet their supply chain sustainability goals is another key benefit from our digital yard management platform," said Matt Yearling, CEO of PINC. "Our team is truly honored by this recognition."
About PINC
PINC provides scalable software, hardware, and services that enable companies to identify, locate, and orchestrate inventory throughout the supply chain predictably and cost-effectively. The company's cloud-based real-time tracking platform, powered by
aerial inventory robots
™ (drones) and an Internet of Things (IoT) sensor network that includes passive RFID, GPS, optical, cellular, and other sensors, provides actionable insights and connected expert guidance that allow companies to optimize their supply chain execution. Learn more about PINC at
www.pinc.com
.
About Supply & Demand Chain Executive
Supply & Demand Chain Executive is the executive's user manual for successful supply and demand chain transformation, utilizing hard-hitting analysis, viewpoints, and unbiased case studies to steer executives and supply management professionals through the complicated, yet critical, world of supply and demand chain enablement to gain competitive advantage. Visit us on the web at
www.SDCExec.com
.
Contact
PINC
Rafael Granato
510-474-7500
www.pinc.com

Contact