Delta Life Fitness Named One of Franchise Dictionary Magazine's Top 100 Game-Changer Franchises of 2018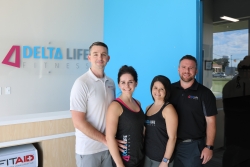 The Woodlands, TX, December 12, 2018 --(
PR.com
)-- Delta Life Fitness (DLF), the unparalleled women's-focused group training franchise announced today it was named one of the top 100 Game Changer Franchises of 2018 by Franchise Directory Magazine. Franchise Magazine is the guidebook for those interested in learning more about franchise opportunities across the country. Other franchises listed include Sports Clips, Allstate Insurance, Fast Signs, Learning RX, Kona Ice, and Cinnaholic.
"Franchise Dictionary Magazine loves to recognize franchise brands that go the extra mile, and our 100 Game Changer issue did just that. We recognized brands in several categories and Delta Life Fitness received a Game Changer award in the category of Raising the Bar on Service. It's well earned, as their incredible attitude about service goes beyond the norm. Josh Cherry, CEO and Co-founder of the brand believes superior service is something that can't be compromised. Happy franchisees and happy end users of their brand attest to that. Congratulations to all at Delta Life Fitness!" - Alesia Visconti, Publisher & CEO, Franchise Dictionary Magazine
The brand's nearly 30 locations across the US are changing women's lives through its trademarked "Tone and Torch" workouts. Delta Life Fitness is built for women, has 30 minute classes and provides the patrons with childcare. They are focused on who they serve and how to serve them better than anyone else.
"Boutique fitness is hot right now in the franchise industry," explained Robby Marlow, Co-founder and President of Delta Life Franchising. "We are very passionate about the 'brand' and how it stands out from other trends. We know and serve our target audience well, we keep operations simple, and focus on being the best 30-minute workout for women."
Delta Life Fitness must be doing something right. The brand expanded by 38% in 2018. Besides being listed as a top 100 Game Changer franchise in the December issue of Franchise Dictionary Magazine, they were also featured in the December issue of Club Solutions Magazine and had a major feature in the November Franchise Dictionary Magazine. Being named a top 100 Game Changer franchise was just icing on the cake. Members and franchisees alike across the country are raving about this brand.
"Delta Life has been a game changer for me because as an adult, I've never cared for working out or been motivated to go to a gym," stated Hedi Anderson, an active and enthusiastic supporter for the DLF brand. "Delta Life Fitness allows me to get expertise instruction from a coach, assists with workout instruction and helps me to attain goals without the extra expense of a personal trainer. It's built exclusively for women and other women like me. I am halfway to reaching my goals and made friends for life along the way. I'm thrilled to be a member of DLF and advocate for them to be in every town for women to enjoy."
Delta Life Fitness is specifically designed to include women of all ages and fitness levels. Hard working, intelligent, multi-tasking women that want a non-judgmental, women friendly environment that promotes a neighborhood family bond. Every workout is tested to ensure maximum calories burned during each workout, including the effects from post-workout calorie burn.
"Delta Life Fitness has found their niche by focusing on meaningful growth and improving their brand. Investing in Delta Life has been life changing for my family, I love how we know exactly who we serve, and we truly do serve them better than anyone else. We own one unit currently but hope to expand to three as soon as possible," explains Cindy Irvine, a franchisee with the brand.
The Small Business Administration (SBA) added Delta Life Fitness to the franchise directory allowing more individuals to receive start-up funding to be a franchise owner. Opportunities are available to open locations in Houston, San Antonio, Austin, and Dallas. Learn more about franchising opportunities: https://deltalifefranchising.com/
About Delta Life Fitness Delta Life Fitness is an emerging women's-focused boutique fitness brand offering its participants an effective and results-orientated total body workout that allows them to get in shape and lead a healthier lifestyle. Find out more about becoming involved with Delta Life Fitness by visiting their site: www.DeltaLifeFitness.com or their Facebook page at www.facebook.com/DeltaLifeFitness
Contact
Taylorized PR
Margie Taylor
936-588-3316
https://TayorizedPR.com

Contact