Kasey-Z Shoes Founders Ron Zemp & Jennifer Zemp Announce the Launch of a New Shoes Line in Medellin, Columbia
Today, Kasey-Z Shoes Founders Ron Zemp & Jennifer Zemp announced they are launching a new shoe line called "Girl Kicks." The collection is a new fashion adventure for Kasey-Z Shoes. Girl Kicks will be a first of its kind for Kasey-Z shoes, it will be a sneaker. Girl Kicks will launch online Spring 2019 with a colorful new sneaker line.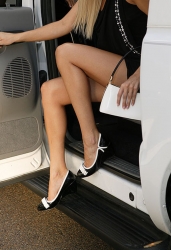 Las Vegas, NV, December 12, 2018 --(
PR.com
)-- The Official Launch of Kasey-Z Shoes' new shoe line "Girl Kicks" will be in Medellin, Columbia. Jennifer Zemp reached out to Tata Prada, a known designer in Medellin, Columbia to manufacture the product. Together, the two companies plan to market a collection designed to uphold Kasey-Z shoes' unwavering commitment to quality, fit and comfort with a new twist and style.
"We are excited about Girl Kicks, our newest addition to our growing brand. Our product is designed for the fashion forward woman and her desire to feel comfortable and confident, with out losing her style," said Ron Zemp.
Things are changing, women want to be comfortable and be able to move without being in pain.
Jennifer Zemp says, "The Girl Kicks line is made for the working woman who is on her feet all day." Sporty is how women are dressing today. "We see Girl Kicks as an opportunity to offer women shoes that are comfortable, stylish, high-quality, built to move and will perform for women," says Jennifer Zemp
Both practical and stylish, these shoes are without a doubt made for walking, dancing, and whatever activity you might find yourself in.
We all love a good stiletto heel, but a chunky Sneaker, with some attitude can deliver a bold fashion forward statement.
The Girl Kicks collection will be available for purchase online at www.jenniferzemp.com in Spring of 2019 and will retail at $300.00-$500.00 dollars. For more information on Girl Kicks, please visit the website at www.jenniferzemp.com.
You can learn more about Tata Prada at
https://www.tataprada.com/
About Girl Kicks by Kasey-Z shoes:
The footwear is designed for people who care about comfort, giving wearers increased support in the heel and ball of the foot. The principles of Kasey-Z have been embedded into a comfortable block heel, beautiful shoe. Going beyond comfort; small innovations and adjustments have been incorporated to create a shoe you'll never want to take off, one that's light, flexible and still is a stylish.
Contact Information:
Jennifer Zemp's Kasey-Z shoes
Jennifer Zemp / Ron Zemp
310-525-9943
Contact Via Website
www.jenniferzemp.com
Contact
Jennifer Zemp's Kasey-Z shoes
Jennifer Zemp
310-525-9943
www.jenniferzemp.com

Contact