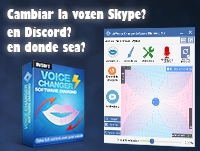 California City, CA, December 26, 2018 --(
PR.com
)--
AV Voice Changer Software Diamond 9.5
now has a new localized Spanish build, which will significantly benefit Spanish users with a friendlier and easier-to-use interface. Furthermore, since the Spanish build is localized from the latest version of the main English build, it will inherit the latest development as well. More information about the software can be found at
https://spanish.audio4fun.com/voice-changer.htm
AV Voice Changer Software Diamond is the program that can changer a user's voice in real time while talking on Skype, Discord or any VoIP programs. With the best cutting edge audio technology from Audio4fun, users can freely change their voice to that of the opposite gender, robot, alien, even animal voices as well as many other voice effects. Not only that, the software also has advances in audio editing tasks, such as recording, converting, morphing, and processing audio files with a set of unique audio tools designed for all users' audio needs.
Spanish is one of the most popular languages that is widely used by more than 20 countries in the world. Even in the United States, one of the largest sales markets for Audio4fun, Spanish is the second most spoken language. Therefore, the company believes that this localized build will be of great help to a huge number of users who speaks Spanish as their native language. In this build, all buttons and functions of AV Voice Changer Software Diamond 9.5 are now available in Spanish. When navigating across the software, users now can comprehend the use of each feature better, especially now with an included explanation in Spanish for each button. With this friendlier interface, it will be much easier and quicker for first-time users who speak Spanish as their first language to become familiar with the software.
"As the Spanish build is localized from the current latest version 9.5 of AV Voice Changer Software Diamond, it is just as powerful as the main English build," said Chris R.F., Head of Quality Administration. "This means that the localized build also has the highest performance ability, and the best compatibility and stability, just like the main build, with all the latest developments. The only difference is the additional Spanish interface, a strong plus point for Spanish users."
AV Voice Changer Software Diamond 9.5 can adjust the age and gender of a user's voice with its main feature, Voice Morpher. This feature is located at the center of the software and is represented by a visual Pitch-Timbre graph. To change any voice, users have the option to either change it in just one click with ready-to-voice presets called "Nickvoices," or creatively adjust the settings within the graph by precisely moving the cursor around.
Besides changing voice in real time, the software also assists users in audio projects such as narrating videos, making voice-overs for animated characters, changing the vocals in pre-recorded audio files, as well as various other audio tasks. In those cases, File Morpher will be a great help to users, because it can conveniently use the settings of Voice Morpher to process and morph batches of pre-recorded audio files, and then export them to various audio formats. Therefore, this is the best reason for calling AV Voice Changer Software Diamond the most optimal software designed for handling all audio tasks in the entire voice changer market.
In addition to Voice Morpher and File Morpher, the software also has a huge library of effects and a set of additional audio tools such as Voice Editor, Voice Recorder, Voice Comparator, Voice Analyzer and Parody Mixer specifically designed for all users' audio needs. To learn more about AV Voice Changer Software Diamond 9.5's features and the Spanish build, all readers can visit https://spanish.audio4fun.com/voice-changer.htm for more in-depth descriptions and specifications.