2018 Culver City Film Festival Celebrated Indie Filmmaking, New Crop of Film Talent
The 2018 Culver City Film Festival screened over 250 independent films from around the world. The festival celebrated the art of filmmaking showcasing at the Cinemark 18 and XD.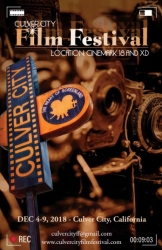 Culver City, CA, January 06, 2019 --(
PR.com
)-- The 2018 Culver City Film Festival, which was held at the Cinemark 18 and XD Howard Hughes Center, in Culver City, California, from December 4th to December 9th, 2018, celebrated quality films made by rising talent in the filmmaking industry.
The festival saw the participation of up-and-coming directors and breakthrough actors who joined forces to create unique oeuvres that sparked conversations surrounding the contemporary film scene, as well as for the future of the seventh art.
"The quality of films at the Culver City Film Festival was at an all-time high," said Peter Greene Culver City Film Festival Program Director.
In addition to the Culver City Film Festival film screenings, an Actors Panel took place on Sunday, December 2nd, and was followed by the Festival's opening night kickoff party with the red carpet. The panel was moderated by actor and filmmaker Kirk Ryde, and panelists included Danny Arroyo, Tracey Birdsall, Matthew Knowles, Francesca Graglia, Holger Moncada, Maggie Qin, and Vincent M. Ward.
"We were delighted to see the public's participation in this year's festival, and we are committed to continue to turn the spotlight on well-made films at each year's event," said Culver City Film Festival Director, Jon Gursha.
This edition of the Culver City Film Festival screened over 250 films from around the world in a competitive nurturing environment for independent films. The awards show was hosted at Gravlax in Culver City. For Festival the 2018 Culver City Film Festival awards, please visit the website link for more information.
https://www.culvercityfilmfestival.com/2018-culver-city-film-festival
Highlights of the films screened at the 2018 Culver City Film Festival are listed below:
Edge of Reality
Directed By Frank J. Dion and Produced By Fiona Lincke
"On the Edge of Reality" is a story of a physical therapist who overcomes addiction (self-medicating himself with a vapid supply of unused pills left by his senior homebound, attention-starved patients). This divorced, relatively "good-guy" can't seem to see past his nose a lot of the time, and actually starts to see the ghost of his ex-wife popping in and out of his bathroom mirror. Clueless, freaked out and thinking he's the next to die, he helplessly watches as his patients drop off one at a time on a daily basis. He starts to find the strange light he has always been lacking and a new gusto for life, with the help of his funny old dad; who knows more than his son thought he did.
Echoes in The Forest
Directed by Luke Alexander
Echoes in the Forest follows the story of a lone traveller who enters a forest deep in the wilderness, hundreds of miles from civilisation. While using his wits and skills to survive the harsh environment, the traveller begins to suspect that he is not alone after all.
Melrose
Director: Soren James
Are you doing life right? Take a ride down Melrose Avenue, and find out.
Impact Event
Director: B. Luciano Barsuglia
A small group of survivors find themselves spending a post-meteoric apocalypse in a fun house converted into a bomb shelter complete with killer clowns and cannibal convicts in this end of days Sci-Fi thriller.
Leland
Directed by Jason Honeycutt
A genius daughter (Taiana Tully) cannot live her life until her deadbeat father (Garret T. Sato) figures out his. Being from Hawai'i, his daughter is bound by her sense of duty to her family, yet, he refuses to help anyone else - including himself. She is the last person who believes in him as his family crumbles around them both. With the burden of taking care of her dad standing in the way of her dreams - what will it take for some people to change? "Leland" is film about what happens when someone benefits from his family, yet, he refuses to help anyone else - including himself.
Happenstance
Directed by Joel Ulrick O Neal
"Happenstance," a Film Written and Directed By Joel Ulrick O Neal and Producer Zeke Hindle. The life and times of an ambitious millennial in search of his identity outside of an app. Follow along as our intrepid hero, Zander, attempts to navigate his way through the cultural landmines laid out in a kaleidoscope of zany, self-entitled, hedonistic misfits from DTLA to Santa Monica and Hollywood. Armed only with a bag of fortune cookies and a little divine intervention, he will take his chances. In the vast comedic collage of "Happenstance," you may discover family is the one sure thing you can always count on.
SEREGET
"SEREGET," a short film written by Dempsey Tillman & Ted Dewberry, directed by Dempsey Tillman, forces you into a dark corner when the "things that go bump in the night" thrust from the darkness and come straight for you! Based on the feature screenplay "RED LIGHT," a story inspired by one Florida man's daily experiences with extraterrestrials, "SEREGET" delivers on its promise and gives you a glimpse into the phenomenon your government has hidden from you from over 100 years.
The Chicken Party
The Chicken Party is the debut feature film from writer & director Carlos R. Valencia. The Chicken Party revolves around two Japanese women on a week-long Christmas vacation to California. During their first-time trip to Los Angeles, sisters Koume (Megumi Kabe) and Sakura (Ami Shimada) strengthen their sisterly bond while they experience the many sights & sounds of the city and its inhabitants. However, when they are invited by two strangers to a Chicken Party, a gathering with the promise of meeting new people and making international friends, the two sisters are set on a dark course neither of them wanted. Once they have entered the party, Koume and Sakura soon find out they have walked into a nightmare where they will have to fight to survive... or be killed.
Pendulum
Directed By Michael Hull & Mychal Sargent
Brian feels stuck in a job he hates and life he doesn't fit into, until one night he is hit by a truck and discovers: every time he dies, he goes back in time 5 minutes. Afterwards, he begins killing himself to change his future, while learning that this newfound power might be hereditary.
Far Away Places
Directed By Tatiana Shanks
A boy from the streets of L.A., travels to Tahiti to visit his relatives, only to find out his younger cousin is being abused by one of the locals. Inspired by true events. In the late 1970's, a 12 year old streetwise boy from Los Angeles travels to the island of Tahiti to visit his Tahitian relatives. During his stay, he is stirred and shaken by the discovery that his little 9 year old cousin is secretly being abused by one of the locals. We see her grow from being a shy and reserved little girl, into this brave and fierce one as her American cousin becomes her protector. When he recognizes her pain and decides to take matters into his own hands, he unintentionally sabotages the man's car and tragedy strikes again. This is a story based on true events about tragedy, love, bravery and triumph.
Cast:
Meleana Hirshon
Kenta Asars
Tony London
Perina Riveta
Julien Gue
The Lesson
Directed By Joey Medina
Joey Medina and award winning filmmaker, who is an international touring comedian and a former professional boxer and undercover cop. Proud to present his latest short film, "THE Lesson." A dramatic powerful film that will have you on the edge of your seat. The film stars Yancey Arias, from "Queen of the South" and "Kingpin."
Headshots
Directed By Chris O'Neill
A young British actress goes to LA to be a movie star - only to cross paths with a serial killer in her acting class. Somewhere in Los Angeles, a photographer is murdering actresses during headshot sessions, taking advantage of the city's huge missing persons epidemic. Unaware of what she's getting in to, young British actress Jaime Donovan (Nika Khitrova) makes the move from grey and dreary London to the sunshine and palm trees of Los Angeles to become a movie star. She makes friends with kooky roommate LAURA (Dani Savka), who brings her to Virginia Taft's (Christina De La Ossa) School of Acting, where she meets fellow struggling actresses- and possible future murder victims. As Jaime goes on the acting grind, booking auditions and getting nowhere, she's told she might need better headshots showcasing her million dollar smile. On a referral, she goes to a session with photographer Lars West (Graham Selden), whose approach to taking pictures of beautiful and desperate young actresses is as predatory as it gets. Escaping Lars' clutches, Jaime is set up with an established photographer Mason Cooper (Thomas Ohrstrom) and feels she's finally on the right path. But Jaime never returns from the photo session. Weeks go by, prompting her intense and determined sister Emmy (Olivia Castanho) and brawling, borderline psychotic brother Tom (Chris O'Neill) to fly to LA and retrace her steps, taking no prisoners with the abusive predators they encounter preying on the edges of Hollywood.
Bob
Directed by John Gross
Bob tells the story of a gay couple who move into their first apartment together and find it haunted. Along with their psychic friend they seek to uncover the mystery behind Bob. The 25 minute short stars Ronnie Kroell (Eating Out: Drama Camp), Jason Shepard (The Social Network), Sarah Elbert (Hatchet, Holliston), Orson Chaplin (American Horror Story) and Wallace Langham (CSI). It was awarded Best LGBT Film at the Silver State Film Festival and won the Audience Award at the 2018 Silicon Beach Film Festival. Sunday, Dec. 9th at 7:30.
My Brother Wes
Directed by Tom Suzuki
Wes (10), has always looked up to his older brother Dre (13) and has always wanted to be included in his older brother's group of friends. As a playful prank to try and deter his younger brother from bad influences, Dre tries to coerce Wes into stealing some sodas and snacks at the local bodega, not unlike a scene in one of their video games, thinking that Wes will be too scared to accept. Without fully understanding the possible consequences, Dre ups the ante by convincing Wes to use a toy gun to hold up the store owner. Wes, not wanting to look like a little kid, doesn't give in and soon both boys find themselves at the bodega. They enter the store as their nerves start to get unhinged. When things turn terribly wrong.
The Journey
Directed by Nancy Walsh and Rob Byrnes
A short film about two couples that takes place current day, and with a flashback to 1934 Brooklyn. Based on the true story of the writers grandparents. Deals with the loss of a child and how each couple deal with their loss.
Lilith
Directed by Alexander T Hwang
One of the most anticipated horror movie of the year, Lilith offers an intriguing twist on horror. Lilith, an ageless vengeful feminine force, can manifest itself in almost any form. Lilith has released her power upon mankind. No one is safe, especially those who have done wrong against women. Watch Lilith punish men for their indiscretions against women. Starring Vernon Wells (Mad Max 2, Road Warrior), Felissa Rose (Sleepaway Camp), Devanny Pinn (Bus Party to Hell) and Thomas Haley (The Fear of Walking Dead).
HUSTLE
Directed by John McKey
HUSTLE follows a day in the grind of Mr. Smith, an aspiring young investment banker with ambitious goals, and dubious tactics. He keeps himself meticulously prepared for any possible situation through a regimen that includes a rigorous morning workout running sprints... in dress shoes, followed by a meticulous rehearsal of his sales pitch while he dresses for business. The day will see him face challenges from customers, both potential and disgruntled, that will test whether Mr. Smith is fully prepared for the Hustle.
Scanner
Directed by Gino Gaetano
Using a hacked scanner, three young men listen and film undercover detectives pursue a suspect carrying a mysterious package and consequently alter the sting operation.
DOLORES
Directed by Gulherme Fernandes
What started out for Dolores (Cristina Castro) as a frantic search for shelter ends as usual in her sister Sandra's (Czarina Mada) house. Fed up with alway being the one to clean up Dolores' mess, Sandra Refuses to help her. DOLORES is the story of siblings and spouses, bruises and bullets, introspection and revelation in which two sisters with two very different kinds of heartache must confront their shadows.
Good Business Sense
Directed by Emmett Loverde
Businessman Bartholomew Braniff is making the biggest boardroom presentation of his life: a proposal of marriage to the equally industrious Claudia. Everything is perfect -- the numbers have been crunched, the projections have been double-checked, and even the ring has been market-tested. But Claudia wants flowers and violins, not charts and graphs. Luckily Spike the waiter is there to make sure that it's a done deal.
Alone
Directed by Daniel Duane
A young, happy couple comes home for the last time to enjoy each other's company before they're evacuated by an unknown yet highly intelligent and highly advanced extraterrestrial race. Ginger and Raymond know the planet is dying and she tries comforting him as best as she knows how, but he dreads what's coming. For him, the memories are as fresh as "nightmares."
If I were to Speak of War
Directed by Marcus Mars
Jim spends his time hiding out at Rock Creek Lake, fishing. But there are some things that he can't hide from. Jim is a Fallujah veteran; he carries an empty notebook everywhere, unable to fill it. He refuses to connect with his increasingly distant wife, his co-workers, and his VA therapist. However, a new member of his anger management class forces him to confront his past and finally fill that empty notebook.
Access Denied
Directed by Jerry J. Cunningham
Mitchell "Mit" Foster, wishes nothing more in life than to spend time with his only grandchild Monty. However, because of the lack of technology, Mit is being denied that chance.
Once Upon A Superhero
Directed by John M. Kline and Produced by Scott Weil
A self-proclaimed superhero by the name of Solar Flare is exiled to earth without his Superpowers for 189 days.
Ice Cream and Tequila
Directed by Joel Junior
Two guys are having a conversation after sex, which starts to get a little too deep. Written based on stories of a very specific audience, "Ice Cream and Tequila" approaches for the first time the theme of "post-sex blues," showing sex with the point of view of an exchange of energy. Starring Jeremy Sless and Justin Powell. Written and Directed by Joel Junior. Produced by Joel Junior and Alice Martins.
Spin the Plate
Directed by Eric R. Eastman and Produced by Tom Anastasi
A female tattoo artist, Jo (played by Becki Dennis), with a damaged soul and tough exterior, encounters an awkward, seemingly poor, Bible-touting young man, Francis (played by Dan Merriman), on a Boston city bus. He tries to win her heart, as she battles to heal the wounds of child sexual abuse. Together they seek justice and meaning in their lives, while a romance blossoms between them, but he's hiding something from her.
Apacheria
Directed by Joshua Gollish
New Mexico, 1884. A mother is left for dead, husband murdered and son abducted; but when she awakens, having been rescued, she must hire an Apache tracker to go into the wild to find her son.
The Culver City Film Festival provides a platform for independent filmmakers from around the world. The festival is an annual event created by Jon Gursha and Peter Greene, Culver City Film Festival is a registered trademark.
Contact
Culver City Film Festival
Jon Gursha
(818)-633-5404
culvercityfilmfestival.com/
4640 Admiralty Way Suite 500
Marina del Rey, CA 90292

Contact