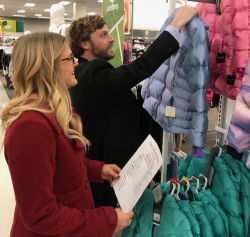 Raleigh, NC, January 10, 2019 --(
PR.com
)-- Throughout 2018, Acquire lead the way in their industry not only for their marketing game and brand mastery, but also for their amount of charity involvement. The promotional marketing firm, located in the North Hills district of Raleigh, did not seem to shy away from any one philanthropy in particular, rather, they teamed up with a variety of local non-profit organizations over the past twelve months. To wrap up the year in December, Acquire adopted a family through The Salvation Army's Angel Tree program.
After participating in a local food drive during the Thanksgiving holiday, Acquire continued their charitable efforts by attending Raleigh's 25th Annual Jingle Ball Gala in partnership with The Salvation Army of Wake County. The Gala is held each year to collect Christmas toy donations for less fortunate children in the local community. Being a part of the Christmas toy drive inspired the Acquire team to get involved with The Salvation Army once again to provide more than just Christmas toys to the children in need. This time, they chose to donate clothing by adopting a family of five children from the Angel Tree program.
"Contributing to the betterment of your community and the people in it gives you a better sense of what the word, 'community' truly means. I feel that through our local involvement, I've provided my employees with the true understanding of what it means and feels like to be part of something much bigger. It has made a massive impact on me personally so I can only imagine the impact each donation and time volunteered has made on the non-profits, and most importantly, on the local citizens receiving the aid." - Zack Schuch, National Director at Acquire
Since 1979, Angel Tree has been part of The Salvation Army's Christmas Cheer Program and has provided ways for local citizens to be directly involved within their community by allowing them to give to the less fortunate on a more personal level. Families who apply for Christmas assistance through The Salvation Army are placed on Angel Tree's adoption list to receive Christmas gifts from a community member who adopts the child. Through adoptions and donations, the Angel Tree program is able to provide new clothing and toys to thousands of underprivileged children for Christmas.
"I think I speak for the entire Acquire team when I say that donating to Angel Tree gives you a sense of connection with the individuals receiving your donations. This charitable program allows you to know the name, gender, age and clothing sizes of each child you adopt, making the process feel more personal." - Grant Gulledge, Sr. Director of Operations at Acquire
Through a variety of community involvement, Acquire was able to provide new clothing, Christmas toys, and hundreds of meals to less fortunate citizens of the Raleigh Triangle in 2018. The Acquire team plans to continue expanding their philanthropic efforts and look forward to discovering and working with even more charitable organizations in 2019.
For more information about Angel Tree and The Salvation Army, visit www.salvationarmycarolinas.org/wakecounty/get-involved/christmas-opportunities/angel-tree-opportunities.
To learn more about Acquire and their philanthropic efforts, go to www.acquireraleigh.com.