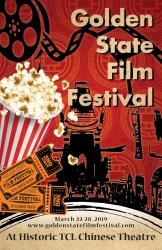 Hollywood, CA, January 17, 2019 --(
PR.com
)-- The organizing committee for the 2nd Edition of the Golden State Film Festival is pleased to announce today that it has started accepting film submissions for screening consideration for this year's festival. The 2nd Edition of the Golden State Film Festival is set to be held from Friday, March 22nd through Thursday, March 28th, 2019, at the world-renowned TCL Chinese Theater in Hollywood, CA. Filmmakers from across the United States and all around the world are eligible for participation, with both short-form as well as feature-length works considered for entry.
"Film festivals are one of the best routes for independent filmmakers to reach wider audiences and open up new career opportunities," said Mr. Peter Greene, Golden State Festival Program Director. "The Golden State Film Festival is intended to serve as an opportunity for emerging independent filmmakers to showcase their talents. It is a competitive event, with exhibitors and prize winners enjoying fantastic exposure before a large audience of enthusiastic film aficionados and high-level industry decision-makers. We take pride in creating a fun, relaxed and exciting festival that celebrates independent films and their dedicated audience, who honor us with its presence and active engagement with the filmmakers and actors that are behind the films screened during the Festival."
The Golden State Film Festival is being administered and operated by Messrs. Jon Gursha and Peter Greene, who are highly respected film industry professionals with years-long experience in unearthing new talent and helping emerging filmmakers enter the professional arena. With Mr. Greene assuming the role of Program Director, Mr. Gursha serves as the Festival Director, and both undertake the various aspects relating to maintaining the Festival's excellent showcasing of artistry and ingenuity in the contemporary seventh art scene. "We are very excited to bring a new festival to Hollywood and The TCL Chinese Theatre. This years festival is going to be amazing week for independent film in Hollywood," said Mr. Jon Gursha, Golden State Festival Director.
In addition to film screenings, the Festival will include an opening night gala ball as well as a red-carpet awards ceremony which will mark the 2nd Edition of the Golden State Film Festival's conclusion in the most festive way possible. The 2nd Edition of the Golden State Film Festival is being sponsored by Simple DCP; Burger Lounge; Ernest Packaging Solutions; Asis Entertainment Insurance, and FilmFreeway. It also enjoys promotional support from various other local business establishments and organizations.
Speaking of last year's Golden State Festival, an excited festival goer, had this to say, "Great festival full of quality films. I really enjoyed seeing the films -- and my own showing had a good-sized enthusiastic audience. I really enjoyed meeting the other filmmakers and talking film. The awards ceremony in a small Westside bar felt warm and collegial. Peter and Jon are real film enthusiasts and very hospitable, and they put on an event that was fun and inspiring."
Those interested in submitting their films for consideration can do so on FilmFreeway or the link on the Film Festival website. Submitted films are not guaranteed screening during the Golden State Film Festival and/or any kind of award or prize, while submission fees are non-refundable. The Festival reserves the right to change programming without notice. The 2nd Edition of the Golden State Film Festival's awards and prize packages will be announced in future communications with the press.
To learn more about the Golden State Film Festival, please visit goldenstatefilmfestival.com