HighGear Converts Outdated Factory Into State of the Art Gym in 37 Days
CrossFit HighGear relocated from 5,400 square foot space to 16,000 square foot space on January 26 as community came together to convert old Gasko factory into gym. The HighGear community totalled over 2,000 hours of work in only 37 days for an amazing transformation.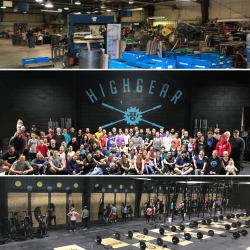 Medina, OH, January 28, 2019 --(
PR.com
)-- In just 37 days, CrossFit HighGear renovated a 16,000 square foot building and relocated from their previous location at 5035 Beach Road to 4049 Ridge Road across from Highland High School. HighGear has been open since August of 2015 and in the past 3 years has grown to a large community of over 300 members outgrowing their original 5400 square foot facility. Finding a new home for the HighGear community has been no easy task. Originally, HighGear Enterprises owners Heidi & Jeff Bogue and Tom & Anna Karos were planning on building at 705 Medina Road. They secured the land, had architectural drawings made and were days away from breaking ground when the Gasko building on Ridge Road came up for sale. Heidi Bogue has spent the last 18 months diligently pursuing an alternative location due to lack of space. "When 4049 Ridge Road came onto the market, it was a no brainer," she comments. "We immediately made a full asking price offer because we were confident the old rubber gasket factory had amazing potential as our new CrossFit gym. It truly was an answer to prayer."
It took vision to see that potential. The factory was in desperate need of a facelift and converting the space from factory to gym took time and money. In all reality the project should have taken several months to be completed. But with the help of dedicated, big hearted members it became a fully functional facility in only 37 days. "I developed the 'Win Win To Move In' initiative as a way to mobilize our community to make things happen quick;y and to reward the work of hard members. Each member was compensated $10 per hour towards their membership and some of our members have literally worked for an entire year's worth of membership dues." Besides the Win Win initiative, Bogue scheduled three community volunteer days and asked each member to consider volunteering for one of them plus helping with the actual move. "Together, we tallied well over 2,000 hours of work in one month. Honestly, there is no group of people I'd rather work with than CrossFitters," owner Heidi Bogue says. "We are quick, we are efficient, we are purposeful and we work well together. Our community has always been strong but this project has only strengthened our bond."
The gym officially moved on January 26th. An army of members made it happen without a single moving truck and without missing a single workout day. Members loaded their own vehicles, their trucks, their trailers and in a matter of hours the community officially relocated across from Highland High School. That same night, HighGear celebrated with a First WOD at Ridge. 67 people comfortably worked out together with barbells, wallballs, pullups, burpees and plenty of room to spare.
The new 16,000 square foot location can house over 300 occupants and includes a 9,000 square foot state of the art CrossFit gym with two 48 foot rigs, an extra 3,500 square foot versatile space, a new yoga room, a massage therapy room, a smoothie cafe, a retail space, a childcare room, office, 8 restrooms, 4 showers and 2 future saunas. The HighGear staff comprised of 22 coaches and staff along with its members is looking forward to opening their arms to their new neighbors and making an impact on the lives of others. "We've always been much more than a gym," remarked owner Tom Karos. "We are about changing lives, one rep at a time."
Contact
CrossFit HighGear
Heidi Bogue
330-568-5680
www.crossfithighgear.com

Contact