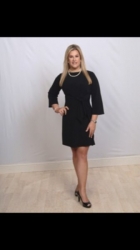 Palm Beach Gardens, FL, February 13, 2019 --(
PR.com
)-- Gina Stavropoulos of Palm Beach Gardens, Florida has been recognized as a Woman of the Month for January 2019 by P.O.W.E.R. (Professional Organization of Women of Excellence Recognized) for her outstanding contributions and achievements in the field of finance. Each month they feature women to represent their professions and industries due to their expertise and success in their chosen specialty.
About Gina Stavropoulos
Gina Stavropoulos has over 20 years experience in the financial arena and has been a Private Mortgage Banker with Wells Fargo Private Mortgage Bank for over 8 years. She specializes in private lending and mortgages. Gina is bilingual in English and Greek. Working from Manhattan to Miami- Gina loves making money move.
Gina was born and raised on Long Island NY, and studied at Adelphi University in Garden City, New York. She started her career in banking working part time for a small savings bank on Long Island (Roslyn Savings Bank ) while she was attending Adelphi University. She knew little to nothing about mortgages, loans, or how to balance a checkbook for that matter. It was only a matter of time until Gina was taken under the wing of two top producing sales originators who molded her into the producer she is today. Previously, Gina served as a senior loan officer with JPMorgan Chase & Company from 2002 through 2011.
Ms. Stavropoulos belongs to the Women's Coalition, the Greek Woman's Council and Selfless Love. In her spare time, she enjoys tennis, travel and spending time in her summer home in Greece.
For further information, contact:
www.wfhm.com/loans/gina-stavropoulos/about.page.
About P.O.W.E.R. Magazine (Professional Organization of Women of Excellence Recognized) and powerwoe.com
P.O.W.E.R is a website as well as a digital and print magazine featuring celebrities and everyday hardworking professional women. Our mission is to provide a powerful network of empowering women who will mentor and inspire each other to be the best they can be. Through our valuable services, our members can collaborate with like-minded professionals, gain recognition and obtain knowledge from those who have already achieved success.