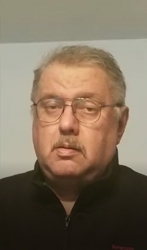 Chittenango, NY, February 28, 2019 --(
PR.com
)-- William F. Rugino of Chittenango, New York has been recognized as a Professional of the Year for 2018 by Strathmore's Who's Who Worldwide for his outstanding contributions and achievements in the field of U.S. government military defense.
About William F. Rugino
With almost 30 years of experience, William Rugino is a Supervisory Human Resource Assistant (HRA) for the Syracuse Military Entrance Processing Station (MEPS) in Syracuse, New York. The USMEPCOM-United States Military Entrance Processing Command determines the physical, mental and moral qualifications of qualified applicants who then enlist in the Armed Forces. Mr. Rugino supervises a 6 member team. He is responsible for supervising the operations section and performing management tasks and duties within the station.
Born on July 21, 1956 in Oyster Bay, New York, William obtained a M.S. in Human Physiology from Fairleigh Dickinson University in Teaneck, New Jersey. Previously, he served as a medical technician, computer data technician, military HRA and supervisory HRA.
Mr. Rugino received the MEPS Civilian of the Quarter and Year awards. He was Salutatorian at Seton Catholic High School in 1974 and was a member of the Onondaga Community College Student Honor Society. He is affiliated with the Knights of Columbus, 3rd Degree.
William married Donna M. Valla on June 17, 1989 and they have two children, Michelle and Sarina. In his spare time he enjoys computers, family activities and is a San Francisco 49ers fan.
About Strathmore's Who's Who Worldwide
Strathmore's Who's Who Worldwide highlights the professional lives of individuals from every significant field or industry including business, medicine, law, education, art, government and entertainment. Strathmore's Who's Who Worldwide is both an online and hard cover publication where we provide our members' current and pertinent business information. It is also a biographical information source for thousands of researchers, journalists, librarians and executive search firms throughout the world. Our goal is to ensure that our members receive all of the networking, exposure and recognition capabilities to potentially increase their business.