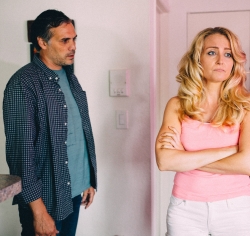 Los Angeles, CA, February 04, 2019 --(
PR.com
)-- British actress Janine Gateland joins new TV show "Illville." A story about police officer Jimmy Lynch who pulls over a young kid in a car, then shoots him. The young boy's family want revenge on this terrible crime. Lynch is married but is also seeing Becky on the side (played by Gateland).
Janine plays the critical role of Becky. She said, "Becky is completely different to his wife, and Lynch can feel free with her. She doesn't judge him and she's fun to be around. She keeps him sane when everything is caving in on him."
When asked why Janine likes performing, she said, "The fact of how unpredictable it can be. It's never mundane, it's always an adventure because you don't always know what job is going to come next. One minute you could be filming in a studio lot or on stage and the next in the woods or up a mountain. From the moment you pick up the script you are at the start of a journey of that character and their story. I love the fact you learn so much about yourself through story telling. What I love is the buzz you get when you come off stage having done a great performance or filming a scene and everything feels just right, and in the moment. Especially when your able to bounce off the other actor's energy like sparks of electricity between you both."
Janine comes from a very small country town in Yorkshire, in the north of England. It's a sleepy town and most people who grow up there, tend to stay, do regular jobs, buy a house and have a family. Gateland wanted to venture out and follow her dreams. She did that alright, joining the cast of "Illville" was so much of a success that soon it will be on Amazon Prime.
Watch out for this new show on Amazon Prime coming soon.