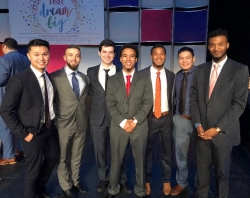 Bloomington, IN, February 09, 2019 --(
PR.com
)-- A California native, Cameron Wynne, opens up his second marketing firm in Indiana. Southern Indiana Consultants Incorporated is creating more job opportunities in Bloomington and the surrounding areas. This office was established to support the growth of Wynne's existing firms. Recently, the company announced that they have four available positions, which they are looking to fill with local talent.
Director of Operations and founder of Southern Indiana Consultants Cameron Wynne states, "Being a young entrepreneur myself; I wanted to make a significant difference and help our generation have a solid mentality that will help them achieve great success. My goal is to create a multitude of opportunities, not just to the younger generation, but all ages. I believe giving back to the community will grow my business and mentor ship experience. I attribute the success in my career to sheer hard work and determination. I grew up with seven siblings, so one of my many goals is to retire my parents and give them the life they deserve. I want to leave a flourishing legacy behind me knowing I was a great mentor and a small reason why someone like me was also able to reach their own goals."
Mariel Cody, Director of Human Resources for Southern Indiana Consultants, says, "Being a part of this amazing organization in which you get one-on-one mentor ship with the C.E.O. is one of the many reasons why I chose to work here with Cameron. The opportunities are endless, and I can't wait to see what the future holds for Southern Indiana Consultants."
Southern Indiana Consultants is one of the fastest growing marketing firms in the nation, ranking number one for customer and client acquisitions. They intend to have two more expansions by the end of 2019.