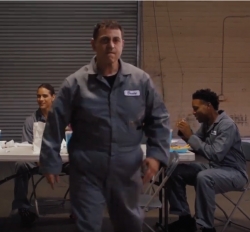 Los Angeles, CA, February 11, 2019 --(
PR.com
)-- Have the Monday morning blues? Is Bob from accounting driving you nuts again? Will Amber be looking for that next report this afternoon? Lunchtime is your refuge, that is, until it's rudely interrupted by middle management. If you've ever experienced the grind of office life, then the new short film "Lunchtime Is Over" is for you.
Created by filmmaker Bruce Nachsin, and making his directorial debut, Lunchtime Is Over is a combat comedy that combines office drama with professional stunt fighting. The idea started as a side project for Bruce when he was taking Mike Chat's XMA stunt class in North Hollywood. It was further inspired by Jackie Chan's comedic fight style. Teaming up with his good friend Gilbert Feliciano as co-producer and stunt choreographers Thekla Hutyrova and Katie O'Donovan, Bruce and his team sought out to create some thing that was not only interesting for stunt people, but fun and entertaining for everyone.
"At first I just wanted to try out these new stunt skills I had learned in class and put them on film," says Bruce. "But then I thought, why not turn this into a story everyone can relate to? We then decided we'd like it to be a comedy." Lunchtime Is Over could be seen as a virtual outlet for those of us who feel a little disgruntled at work from time to time and imagine all kinds of things we've never actually act on. However, Bruce says: "My goal is really just to make people laugh."
Lunchtime Is Over can be seen on YouTube here:
https://youtu.be/DmlFS2lS7ho
Bruce Nachsin is also the creator of a short film series titled Dark Specter; it has been gaining praise and accolades at film festivals for its unique take on the superhero genre. After winning in five categories of the Independent Short Awards including Best Web Series and Best Fantasy, Dark Specter 2 recently announced a string of new film festival showings in February and March. These appearances include Geekfest, Pensacon, Pasadena International Film Festival, Golden State Film Festival, and others. Public release of Dark Specter 2 is slated for April 2019.
The trailer for Dark Specter 2 can be seen on YouTube here: https://youtu.be/gtrGDdKPd7U
To learn more about Bruce or Dark Specter, or to see details of upcoming film festival showings, visit DarkSpecter.com. To coordinate media coverage and/or interview with Bruce, please contact Stephen at SMTentertainment@gmail.com.