LichtensteinRE Retained as Exclusive Broker to Sell Building in Mount Vernon, Westchester County NY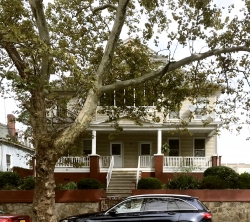 New York, NY, February 26, 2019 --(
PR.com
)--
LichtensteinRE
has been retained on an exclusive basis to sell a three-story walk-up property located at 521-523 South 5th Avenue in Mount Vernon, Westchester County, New York. The asking price is $1,399,999 just reduced from $2,500,000.
This well maintained three-story walk-up frame building contains six units consisting of four (3) bedrooms and two (1) bedroom residential apartments plus full basement with laundry and storage areas. It has a gross total floor area of at least 5,385 Square foot and lot size of 5,227 square foot. The six apartments are rented for an actual low average of $1,695 a month.
The building contains a basement that the new owner can Install Coin Operated Washing Machines for the tenants to use for additional landlord income. The Total Gross Annual Rental Income Actual & Projected all Sources is $122,040.
The selling price represents a Cap Rate of 5.23% Return on Investment to an all cash buyer or 7.9% ROI with depreciation tax benefits. Long Term Future Projection is 7.0% cap rate and 9.6% TOI with depreciation. All these numbers are estimated from the current rental income.
This investment opportunity property has updated floors, two balconies/ porches on the first floor and brand-new appliances and fixtures in some units.
The property is located on the South Side section of Mount Vernon, Westchester County, near the downtown business district and municipal establishments. The property is close to public transportation Metro North, Bee Line, MTA Dyre Avenue # 5 and 241st Street # 2 trains.
The property is being marketed exclusively by Andrew Lichtenstein, Inc. LichtensteinRE has been actively selling multifamily and commercial real estate for its clients in and around New York City.
About
LichtensteinRE
LichtensteinRE specializes in the exclusive sales of multifamily and mixed use commercial real estate properties in New York City's 5 boroughs. LichtensteinRE is a full service Commercial Real Estate Sales, Financing and Advisory Service Boutique based in New York City, the financial capital of the world. LichtensteinRE's proven experience, track record, financing ability, exclusive buyers and connections with tens of thousands of property owners assures their selling clients the best possible price when a landlord owner wants to sell their property.
DoctorMortgage, which is LichtensteinRE's financing division, has been a leader in commercial real estate mortgage debt financing since 1991. DoctorMortgage is able to negotiate and facilitate financing to deliver the best price, leverage and return on investment possible.
LichtensteinRE's greatest ability is creativity and problem solving. After selling the owner's property, LichtensteinRE has assisted successful sellers in locating replacement 1031 tax deferred exchanges and in some cases has more than doubled the seller's net income post-closing. To learn more contact Andrew Lichtenstein at (800) 242-9888 or
AL@LichtensteinRE.com
Contact
LichtensteinRE
Tatiana Lichtenstein
917-379-9592
lichtensteinre.com

Contact