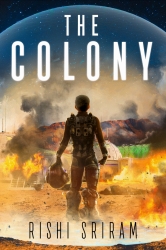 Irving, TX, March 07, 2019 --(
PR.com
)-- From the author of "Mystical Trials," comes an enthralling new sci fi series. "The Colony" takes readers on an adventure that drives home the importance of honor, ethics and responsibility.
Synopsis
Eighteen-year-old Nathan Crane is on an interplanetary mission, heading to colonize Mars with one hundred thousand others aboard the SS Noah in hope of saving humanity. It's the year 2074, and overpopulation and depletion of basic resources like water and air is rampant, largely due to The Chancellor's tyrannical world domination and mismanagement.
Nathan must leave his ailing father and mother behind in Minneapolis, but believes in the expedition and is willing to work hard to build a world for future humans. But when the reality of the colony crashes through, Nathan is forced to concentrate on saving lives in the present—including his own and those of his new friends. Faced with corruption, totalitarianism and the prospects of genocide, Nathan and his friends grapple with their own questions about self-preservation and the good of society as a whole.
About the author
Rishi Sriram is an eighth grade student of Perry Middle School. He became inspired to create his own fantasy world and mythical characters after reading the Percy Jackson series at the age of seven. He is part of the LEAP program designed for students with a high level of academic discipline.
Paperback and Kindle versions are available in Amazon.
Title: The Colony
ISBN: 978-0578462646
Released on: 02/27/2019
The Colony at Amazon