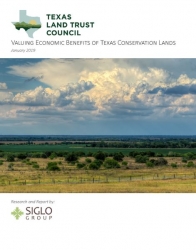 Austin, TX, March 07, 2019 --(
PR.com
)-- The new study, produced by Siglo Group in partnership with the Texas Land Trust Council, quantifies the value of lands and conservation easements that have been conserved by or with assistance from the Texas land trust community. Land Trusts are non-profit organizations that work to conserve special lands and waters by permanently protecting them from development for the benefit of the people, economy, and wildlife of our state. Land trusts conserve natural areas by negotiating private, voluntary agreements with property owners to leave their land undeveloped or through outright purchases. There are over 30 land trusts in Texas that offer nonprofit, voluntary solutions for land conservation.
Economic values for benefits provided by these conserved lands were calculated using an ecosystem services approach. Specifically, the study assessed the more than 1.6 million acres of open space lands that have been compiled into a statewide conserved lands database by Texas Land Trust Council members and partners as of January 1, 2018. Lands were assessed in terms of the services and subsequent taxpayer savings they provide for water quality, water quantity, flood prevention, and rural economies (via agricultural production and wildlife leases).
This study examined past and current research and data related to economic benefits achieved through conservation. The study found that the lands put into conservation with the help of Texas land trusts are estimated to provide more than $1 billion in benefits to Texas taxpayers each year. Of this, 47% is attributed to flood prevention and damage reduction, 16% can be attributed to supporting rural economies, and 37% can be attributed to benefits for water quality and quantity. Over the next 30 years, the protection of these services would result in over $30 billion in taxpayer savings at today's current rates.
Through a monetary valuation of the economic benefits that conserved lands provide, the results of this project are intended to more clearly articulate the value of Texas conservation lands and open spaces to decision makers. The findings represent a great step forward toward recognizing the substantial value that conservation lands bring to the Texas economy.
For more information or to download a copy of the report call 512-994-8582 or visit www.texaslandtrustcouncil.org
The Texas Land Trust Council is a nonpartisan, nonprofit organization that builds and supports a strong, active coalition of more than 30 organizations working to conserve the lands and waters of Texas. We serve as a powerful voice for conservation to protect drinking water, Texas' iconic wildlife, and our rich natural and cultural heritage. Together and in partnership with private landowners and citizens, we work to ensure that the Texas landscape – rich in history, natural resources, breathtaking views and recreational opportunities – can be left intact for all of us today and for the future. Learn more: www.texaslandtrustcouncil.org
Siglo Group uses the power of geographic information to help our clients integrate land use with natural systems. Siglo has worked on sites ranging from small city parks and private ranches to large, multi-county regions. We specialize in conservation planning, cartography, regional analysis, and land management plans. Using maps, reports, presentations, and dynamic web tools, we support our clients with decision-making and planning, as well as education and outreach initiatives. We pride ourselves on producing visually compelling and informative products about a range of complex issues. Learn more: www.siglogroup.com