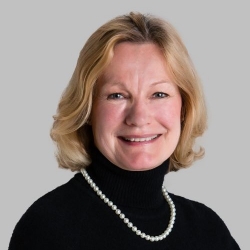 San Ramon, CA, March 11, 2019 --(
PR.com
)-- NetForce Global®, a trusted leader in wholesale international background screening, announced today they have hired Kerstin Bagus—a 30 year industry veteran—as their new Chief Knowledge Officer. Fred Giles, company CEO, commented, "Ms. Bagus is a recognized expert in the field of global background screening and compliance, and she brings NetForce a vital competency as we meet the challenges of a continuously changing compliance environment."
Kerstin has held senior positions with several market leaders, such as Pinkerton, ChoicePoint, First Advantage and ClearStar. Corporate Board Chairman, Ed Etzel, said, "Her role in working alongside the NetForce Global leadership team will be to continue and grow our tradition of excellence in compliance and consulting to clients."
Kerstin joined NetForce in January 2019. She is responsible for leveraging the knowledge within the organization to assist clients to reliable meet their data needs. She has served in leadership positions with NAPBS including Board participation and Committee leadership. She currently serves on the Education Committee, the Global Advisory Council, and assists other Committees with general global and data protection needs of the Association.
Kerstin is one of the few individuals in the background screening industry who has the Certified Information Privacy Professional (CIPP) credential, awarded by the International Association of Privacy Professionals. She holds CIPP certifications for several jurisdictions, including Canada, European Union, and the US Private Sector.
About NetForce Global
NetForce Global is the trusted wholesaler of international background screening information in The Americas, Canada, EMEA and the Asia/Pacific regions. The company provides customers with background screening information covering over 200 countries and territories utilizing a proprietary Continuous Compliant Management System™ that provides confidence to our customers and their clients to make informed multinational hiring decisions.
Contact Information:
Fred Giles, CEO
(925) 263-2135
fred.giles@netforceglobal.com
NetForce Global, LLC
18 Crow Canyon Court Suite 310
San Ramon, CA 94583