Prometheus Marketing, Inc. Celebrates Grand Opening
Prometheus Marketing, Inc. is celebrating their Grand Opening. They bring with them a very dynamic solution to all of their clients marketing needs. Due to a unique business approach they've earned the opportunity to represent some of the most well known and recognizable names in the world.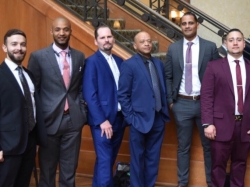 Billings, MT, April 04, 2019 --(
PR.com
)-- The founder Richard Rogers brings over 15 years of related experience with him to his business when joining the community. Richard is joined by his wife Laurie. They are adopting 2 children, a 1 year old daughter "Joy" & her 5 year old brother "Jeremiah." The are raising their grandson Xander as well. Their family hopes that they can become an integral part of the community. They're moving here from Las Vegas, NV. The Entertainment Capital of the World.
Prometheus Marketing, Inc. has set forth their main goals:
1. To create a superior place of employment that offers growth and advancement opportunities to exceptionally qualified candidates.
2. To always represent business partners and clients better than expected.
3. To help build the community through philanthropic ventures.
Prometheus Marketing, Inc. is a cutting edge acquisition agency. Their management training program is 2nd to none. Employees are able network with amazing people as well as build life long knowledge and experience that will serve them well. Business partners and clientele have come to rely upon Prometheus Marketing to lead the way rather than follow the pack which is precisely what they do.
Contact
Prometheus Marketing, Inc.
Richard Rogers
406-281-8496
www.PrometheusMarketingInc.com

Contact