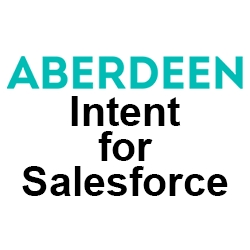 Waltham, MA, April 08, 2019 --(
PR.com
)-- Aberdeen announced Aberdeen Intent for Salesforce – the first Salesforce-native solution that identifies and pushes intent-qualified opportunities directly into your Salesforce instance so your sales team never misses another deal. Aberdeen Intent for Salesforce uses machine learning to track the online research of millions of companies across the internet to generate the most accurate intent score available with client measured accuracy as high as 91%.
Aberdeen Intent for Salesforce is based on the most accurate, most actionable and highly targeted intent data in the market. On a daily basis, Aberdeen monitors over 55 million Device IDs from over 17 million companies, tracks their research across 12.8 billion webpages and 480,000 keywords and compares their behavior versus a 52-week baseline to determine a purchase intent score.
Most sales teams focus their time on static target account lists and unqualified, inbound web traffic. This approach misses high volumes of deals happening in the market with similar account profiles. Aberdeen Intent for Salesforce identifies these in-market accounts and feeds them directly into Salesforce for sales teams to engage.
Aberdeen Intent for Salesforce includes:
• Intent Calibration – Tailor intent signals to best fit client offerings and market
• Intent Pixel – Track account activity on website and incorporate into intent score
• Intent Monitoring - Continuously monitor all accounts within target market for intent signals
• Intent Qualified Opportunities (IQOs) – Create opportunities above intent threshold
• Account Intelligence – View keywords, top websites, ads viewed and intent score
• Measurement – Track IQOs contribution to pipeline via the Visualforce dashboard
"We've deployed Aberdeen Intent for Salesforce and it has fundamentally changed my conversation with Sales," said Brad Gillespie, Cvent's VP of Corporate & Enterprise Marketing. "Instead of ignoring ABM, they are now actively engaged and seeing qualified opportunities move through the pipeline to close."
"Intent data has been trapped in marketing tools as just another score," said Marc Osofsky, Aberdeen's CEO. "Aberdeen Intent for Salesforce delivers what sales wants – accounts looking to buy that are fed directly into Salesforce for sales to engage and increase pipeline."
About Aberdeen
Aberdeen provides intent-driven marketing and sales solutions that deliver full funnel performance improvements. Our intent data is the most accurate, most actionable and highly targeted in the market. Our intent-driven marketing subscriptions easily plug into a clients' existing marketing and sales tech stack via data feeds, embedded analytics and apps. For clients seeking a full-service approach, we offer intent targeted advertising and competitive lead programs.
https://www.aberdeen.com/about/news-press/aberdeen-intent-for-salesforce/