5 Things to Consider When Developing a Leader
Jared Poniatowski CEO, New Age Marketing Inc, teaches an Audience how to Develop The Millennial generation in to leadership. 5 keys points to development.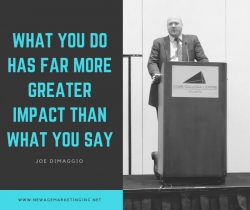 Charlotte, NC, April 08, 2019 --(
PR.com
)-- 1 - Show Them How to Network – Your network is your net worth. Most employees tend to shut off after they get home from work. On the way to and from the office is a great time to network. Show your employees who to network with and lead by example. You can't expect them to network with someone if you have never showed them how.
2 - Work Life Balance Depends on Priorities – Every person is different, every culture is different, and every family is different. Even so they all have one thing in common; priorities. Regardless of who you have in your office, you need to be cognizant of the fact that everyone views you and your business differently. The time at work/efforts into being developed also transfer to regular life. Employees first need to know how the development and training will benefit them on and off the field. Developing people skills, communications skills, patience, persistence, and practicing humility are all beneficial to all aspects of a person's life outside of work. Find out what their priorities are so you can coach accordingly. Some put Faith above all, some family, friends and others fortune. Knowing this will help you explain to them how to best balance a schedule at work and at home.
Understanding their priorities will help you to communicate business priorities, in turn your business relationship with be honest. They will be open to coaching, knowing you have their best interest at heart. They will feel more comfortable at home and be able to remain focused at work.
3 - Ask for Feedback on Your Coaching – You're not the best at what you do. You're only as good as your last fight. As you break down the goals and priorities for your team ask what you can improve on. This will develop good coaching habits and will let your people know you are growing too. Leadership by example is development by example.
4 - When the Cat's Away the Mice will Play - Set up a conversation before you leave. Nobody wants to feel like they are making the Boss money and getting the short end of the stick. Obviously, it is okay for the owner of a company to expect a good return because they take on more risk and responsibility, but remember when you leave to should incentivize the person in charge to steer the ship in the right direction. This is a simple conversation letting the leader know they are in charge when you are away, you appreciate them, and you remain in control.
5 - Always be Ready to Put in Work - Good leaders are great coaches. If you have never played soccer you should never coach soccer. If you have never done dishes you should not run a restaurant. When an employee knows you have walked a day in their shoes it opens the door to be coachable. When employees have a student mentality it will be easier for you to develop their leadership skills. It will make your leaders understand why they little things are important. Be able to show they you know how to get your hands dirty and you don't mind doing it. The best coaches have been able to play all positions.
New Age Marketing Inc is currently accepting applicants for a new leadership development program.
Contact
New Age Marketing Inc.
Mariel Cody
704-449-7313
newagemarketinginc.net

Contact