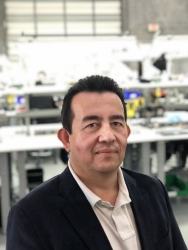 Palm Beach Gardens, FL, April 11, 2019 --(
PR.com
)-- MTech MDM, a company dedicated to supporting the mobile technology that modern workforces rely on every day, announced today the appointment of Leonel Silva as Vice President, Finance.
Silva will oversee and lead MTech's financial planning, accounting and investor relations activities, as well as sales operations, sales support and operations management. He brings to this new role a successful track record and proven expertise in business-critical areas such as strategic planning, forecasting and process improvement including demonstrated ability to engineer and streamline business operations to drive growth and improve productivity.
"As we continue to grow our services and client base, Leonel's background and expertise as a strategic senior finance leader and business partner will be instrumental in helping MTech achieve our business objectives to best serve our customers, partners and investors," said Tony Fernandez, MTech president and co-founder.
Prior to joining MTech, Silva was with worldwide information and technology services company, NCR Corporation, where he headed up North America financial services for the company's $1 billion Direct and Channel business sector. While at NCR he also held finance and operations positions where he designed and implemented new systems supporting their Latin American and North America region. Prior to NCR, Silva held leadership positions in finance and accounting at AT&T, Banco de Bogota and Permoda, S.A. Additionally, he brings deep market field experience in North America, Latin America and Brazil.
"I look forward to utilizing my strategic finance background and expertise to support MTech and its clients as they continue to capitalize, optimize and serve the fast-growing needs of enterprise mobile device management sector," said Silva.
About MTech MDM
MTech provides a comprehensive suite of managed mobile device services including provisioning, call center, repair, asset, and life cycle management. We are trusted by some of the largest companies to serve their mobility management needs — from mobile device repair to full end-to-end lifecycle management and Device-as-a-Service (DaaS) enterprise transformation.
Founded as a mobile device repair company in 2012, today MTech is recognized for its quality workmanship and high levels of customer service enabling businesses to manage their mobile services with quality, flexibility and affordability. The company serves the critical mobile management needs of any industry sector including major retailers, hospitality / restaurants, travel / airlines and emergency services / first responders.
MTech MDM operates from its headquarters at 10415 Riverside Drive, Suite 107, Palm Beach Gardens, FL 33410. For more information, please visit www.mtechmdm.com or call 1-844 MTECH MDM (683-2463).