Dr. Patricia A. Broderick Honored as a Woman of Excellence-Industry Leader in Neurology by P.O.W.E.R. (Professional Organization of Women of Excellence Recognized)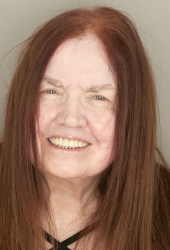 Bronx, NY, April 24, 2019 --(
PR.com
)-- Dr. Patricia A. Broderick of Bronx, New York has been recognized as a Woman of Excellence-Industry Leader in Neurology for 2019 by P.O.W.E.R. (Professional Organization of Women of Excellence Recognized) for her outstanding contributions and achievements in the field of Neurology. This award recognizes women for their outstanding achievements and high level of success in their industry. They are knowledgeable, goal oriented, and do their very best to maintain high standards.
About Dr. Patricia A. Broderick
Dr. Patricia A. Broderick is a medical professor with CUNY School of Medicine, CCNY. In addition to her approachably intriguing teaching career at the Medical School, she is a staunch researcher. Dr. Broderick is the founder of The Broderick Brain Foundation, which is dedicated to funding training for medical, doctoral, masters, undergraduate, and high school students, as well as professors, doctors, nurses, and healthcare workers in the unending quest to discover how the brain works.
As the inventor of The BRODERICK PROBE® nanobiosensors and owner of its Trademark worldwide, Dr. Broderick developed and patented this series of nanobiosensors as well as the electrical circuits to direct the sensing work of the nanobiosensor. Whereas all patents are assigned to the innovative company she founded, Eazysense Nanotechnologies Inc., in concert with The City University of New York Technology Commercialization Office, a portion of her patents are assigned to New York University. Eazysense Nanotechnologies Inc. holds unlimited franchisee rights to the BRODERICK PROBE® series of nanobiosensors and circuits. The EAZYSENSE brand is a Franchise. The Indian Dept. of Franchise granted unlimited franchisee status via formal agreement with EAZYSENSE. The Indian Government as well as that of Japan and Spain are the first to hold FRANCHISEE Registration rights to market the BRODERICK PROBE®. The BRODERICK PROBE® nanobiosensors image dynamic changes in neurotransmitters in vivo and in real time, and on line. Neuromolecular Imaging (NMI) during successful intraoperative surgery in the brain of the epilepsy patient with New York University Institutional Review Board Approval is, in reality, the first translational nanobiotechnology for the millennium and beyond.
With a broad and integrated educational background including post-doctoral positions at the Albert Einstein College of Medicine and Cornell Medical Center, Dr. Broderick earned her B.S. from St. Thomas Aquinas College in 1963, her M.S. from Fordham University in 1970 and her Ph.D. from St. John's University in 1979. She has written numerous book chapters, and peer reviewed prestigious articles in the neurodegenerative and psychiatric as well as sensor journals. Her latest book, "Neuroimaging Sensing Biochemistry in the Brain," from Jenny Stanford Publishing, Singapore, is online with news of availability July 31, 2019. She serves as an editorial member of the board on more than 20 scientific and medical journal boards. Dr. Broderick is a member of the American Society for Pharmacology and Experimental Therapeutics, The Society for Neuroscience, The Association for Women in Science, The Electrochemical Society, and The American Epilepsy Society.
Patricia thoroughly enjoys living her full life; a life of family, students, friends and colleagues, who are friends and family, a life of music and dancing, and she finds most enjoyable, the work she has been given to do on this earth. With her unusual way of multitasking, using her knowledge, being outgoing and having a kind personality to relieve and alleviate problems for others, she stops everything to tutor students and assist families of patients with brain disorders, in what appears effortlessly.
"Time flies - each second flies into eternity-my wish is to recapture each second of love in eternity." - Dr. Patricia A. Broderick
For further information, contact:
https://www.eazysense.com
https://www.eazysensenanotechnology.com
https://www.eazysensationalbrainimaging.com
About P.O.W.E.R. Magazine (Professional Organization of Women of Excellence Recognized) and Powerwoe.com
P.O.W.E.R is an online community as well as a digital and exclusive print magazine featuring celebrities and everyday hardworking professional women. Our mission is to provide a powerful network of empowering women who will mentor and inspire each other to be the best they can be. Through our valuable services, our members can network, collaborate with like-minded professionals, gain recognition and obtain knowledge from those who have already achieved success.
Contact
P.O.W.E.R. (Professional Organization of Women of Excellence Recognized)
S. K. Koop
516-365-3222
www.powerwoe.com
Ellen Gold

Contact