QUWF Commissions Bear and Son Cutlery for Its "10th Anniversary Commemorative Knife"
As a leading conservation organization, QUWF celebrates its 10th year with a commemorative knife, made in the U.S.A. by American craftsman and American materials.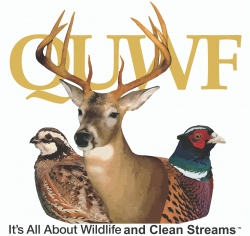 Buffalo, MO, April 17, 2019 --(
PR.com
)-- To commemorate its 10th year as a leading conservation organization, the only veteran founded and true multi-specie organization in the U.S., the Quail and Upland Wildlife Federation (QUWF) along with Bear & Son Cutlery have partnered to produce an exclusive, collectible, built in USA compact bowie knife engraved with "QUWF 10th Anniversary."
"We are thrilled to find an American company to make our commemorative, collectible knife with American craftsmanship developed over decades of manufacturing and high standards of quality control. Bear & Son Cutlery's superb reputation serving major outdoor retailers and organizations over the decades speaks to its rich heritage of fine craftsmanship for the outdoorsman," states Craig Alderman of QUWF. "The strength of its American steel blade represents the determination and strength of QUWF as it grew from what many considered an anomaly, to one today that leads in wildlife habitat restoration and clean streams."
The 10th Anniversary knife will only be available in 2019 through QUWF Chapter Banquets and special events across the country along with a full selection of Bear & Son knives, all helping to raise local funds for local habitat and clean stream projects. The 10th Anniversary knife comes complete with a ballistic nylon sheath.
"Bear & Son Cutlery always supports the conservation of wildlife habitat, wildlife populations and clean streams. We also support youth-oriented programs, because younger generations are the future stewards of our hunting, fishing and outdoor heritage," states Drew Kohler of Bear & Son Cutlery. "QUWF is a great partner working toward a common goal on a national basis. Their members are hands-on and actively involved in turning-the-dirt projects that benefit our natural resources. It's also truly an honor to join forces with a veteran founded organization, whose leader continues to give for his country with a passion and lifestyle that supports wildlife conservation in the USA. It makes perfect sense for an American conservation organization to offer Made in USA and Built in USA knives. We are very thankful and proud to be an American manufacturer and partner in conservation," concludes Drew.
"The beginning was a challenge to say the least but one conservationist helped us and that is John L. Morris of Bass Pro Shops. We honor him with the presentation of the first knife produced as it represents an American dedication to conservation, hard fought growth and continued dedication to save many species of wildlife and clean stream fisheries across the U.S.," explains Alderman.
About QUWF:
The Quail and Upland Wildlife Federation (QUWF), is the only Veteran founded and managed national conservation organization in the U.S., and the only multi-specie and clean stream national organization based in Missouri. QUWF turns-the-dirt locally and nationally with chapters that manage and control their own funds. To join QUWF, get involved locally with upland wildlife and habitat restoration/ clean streams or the new youth fishing teams, visit our web site at www.quwf.net.
"Preserve the Land and Clean Streams...Build the Habitat...Hunt and Fish for Generations" with QUWF™
About Bear & Son Cutlery:
Bear & Son Cutlery is equipped with a rich family tradition in knife making and employs a skilled and experienced work force that is capable of performing many of the extra hand operations that go into the making of their products. The Bear & Son Cutlery factory is unique. It is full self-contained. While some companies only assemble parts brought from various suppliers and put their names on the product, Bear & Son Cutlery does everything in-house from building their own blanking dies to heat treating, grinding and assembly, and hand finishing products. These steps ensure that Bear & Son Cutlery is of excellent quality and a real value for both the retailer and consumer. Their ongoing commitment is to make them in America and make them affordable.
Contact
Quail & Upland Wildlife Federation
Craig Alderman
417-345-5960
www.quwf.net

Contact