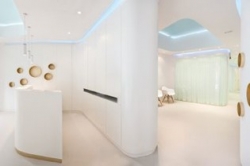 Sydney, Australia, April 18, 2019 --(
PR.com
)-- Does this sound familiar?
Over 100 patients interviewed by ARA Interiors company claimed to feel threatened, distressed and even annoyed when visiting a health centre, stating that most clinics and hospitals have a frigid and ordinary environment that triggers memories of pain, loss and other negative feelings. On average, 78% admitted they avoid the visit and often postpone it for months.
Refurbishments have a hugely positive impact on patients, medical practitioners and staff. It also renews brand loyalty and increases overall professional performance.
Who said that clinics must be drab and utilitarian?
A clinic is also a work environment and consequently is invariably the place most people spend most of their time in, so it deserves to be a space that represents style and meets needs at the same time.
Healthcare technologies include innovative materials designed especially for health centres to maintain a sterilised environment, without neglecting style. Workplaces should present credibility, composure and neatness whilst allowing professionals and patients to connect and trust each other in a comfortable environment.
Do not hesitate to hire a professional company that understand the needs of your company. Find a company that provides a turn-key approach to projects, including project management to ensure that everything flows together seamlessly from plan to completion, resulting in a beautiful and cohesive design. The chosen design firm needs to be able to create a memorable, beautiful and practical space for you, your staff and patients.
If you've never worked with a design firm before and would like to know more about a standard design process that works, feel free to visit www.arainteriors.com.au/commercial-interior-design-service/ (scroll down to see the 12 Steps Process). Learn what to expect from a Commercial Design firm and discover more about how they help business owners to get their project started.
www.arainteriors.com.au