God's House of Hip Hop on Dash Curated by Emcee N.I.C.E. Makes History as First Christian & Gospel Hip Hop Internet Station to be Honored by the Stellar Awards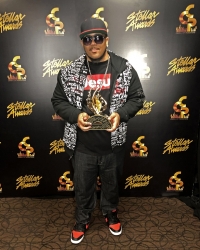 Los Angeles, CA, April 19, 2019 --(
PR.com
)-- God's House of Hip Hop on Dash Radio becomes the first 24/7 digital Christian Hip Hop (CHH) & Gospel Hip Hop Radio Station to win the prestigious Stellar Award. Trailblazing new paths for the Christian/Gospel hip hop genre by becoming the first all faith-based hip hop station in the history ever nominated, the first to win the award and the first station on the Dash Radio platform (which has 80+ stations: The platform includes partner stations curated by Snoop Dogg, Odd Future, Kylie Jenner, Mac Miller, Kreayshawn, Isaac Hayes, Tech N9ne, Grenco Science, XXL Magazine, East Village Radio, and others.) God's House of Hip Hop is the first on the platform to win a major award.
The Stellar Awards founded by Don Jackson is Gospel Music's highest honor. God's House of Hip Hop was co-founded and curated by multi-platinum, Billboard chart-topper, 2x Stellar Nominee, Christian Hip Hop recording artist Emcee N.I.C.E. and co-founder business executive Chantal Grayson. GH3 Radio is one of the few reporting stations for CHH and GHH music. The new and older generation who love God and Hip-Hop, now have a station that awakens the spirit and appease the mind's quest for lyrical messages that are rooted in the Word and disseminates hope. Through Dash, GH3 Radio offers millions of listeners non-stop CHH and Gospel Hip-Hop music and live broadcasts giving a platform for an artist the likes of KB, Lecrae, Bizzle, Emcee N.I.C.E., Andy Mineo, Derek Minor, Steven Malcolm, Wande and various independent artists.
GH3 Radio station lineup plays continuously on Dash. "We are always looking for the best partners to work with specific genres. Gospel Hip-Hop has been a frequent request from our audience and represents an incredible message of positivity and a market sector that is largely ignored. I look forward to hearing GH3 on the Dash platform and am excited to watch it become the biggest station in the world for its sector," said DJ Skee.
We are living in digital space and time. Emcee N.I.C.E. believes that God's House of Hip Hop radio content is primed to fill the void in music that is beaconing for the purveyors of CHH and Gospel Hip-Hop to address in a meaningful yet entertaining way. "Being a part of Dash Radio family is a blessing and honor to be working with DJ Skee and his team of people dedicated to good music broadcasted in a manner that is accessible and enjoyable to the listening public," stated Emcee N.I.C.E.
About GH3 Radio - God's House of Hip Hop.
Extending his brand into radio aligns with N.I.C.E.'s acronym Novelist Is Constantly Evolving. God's House of Hip Hop Radio is a marquee station for CHH and Gospel Hip-Hop music. The station highlights include flagship show "God's Calamari" hosted by Emcee N.I.C.E and "The God Squad" (Ms. Marlo Nicole Richardson and Harlem Gee), GH3 Radio's CHH and Gospel Hip-Hop take on The Breakfast Club. This segment will feature new music, interviews, who's in the mix, Ryze Magazine's Ryze'ing Stars, current news and "Just Fly" by former Fly Girl from "In Living Color" Jossie "Just Jossie" Thacker Harris.
Airing weekly, is "Rapzilla.com Live" with Chris Chicago airing Sunday afternoons also step "Into the field with the Trackstarz", Ryan Righteous, Seantana, and DJ Jeremaya" on Saturday's. Other station highlights include; "Street Psalms" by radio veterans ThoseBaxters, DJ I Rock Jesus's "Mixtape Wednesdays," Rep Da King Mag presents "New Music Friday's" hosted by Symmie So Real, the "Gospel 30" curating the mood of the week, Jesus Peace Radio Tuesdays," "Beyond the Pews with Amy Bentley," "Rezonation" by Rezurrection, RYZE Magazine Presents the "Ryze'ing Stars" with Nae' Thompson and "Inspirational Hip Hop Sunday's" by Chanie G.
In 2019 God's House of Hip-Hop will live stream performances and interviews from artist's attending various CHH and Gospel Hip Hop events and in 2020 God's House of Hip Hop will present the first-ever CHH and Gospel Hip Hop 20/20 Summer Festival in Los Angeles featuring 75 various major and indie acts.
About Dash
Dash Radio was created by the world's biggest DJ's who became fed up with the limitations of regular FM radio (and hate internet playlists that pose as radio powered by soulless computers). Together, we formed Dash with one goal: to provide the best radio platform in the world. This means all the variety you ever wanted with zero commercials… oh ya, all live 24/7, for free.
We work hard to provide the best radio experience in the world (seriously, there are live DJ's in our studio right now 24/7) but please tell us what you want to hear, add, or change as we are constantly evolving. If you like what you hear and want to help us grow, tell your friends to join the evolution of radio. Thanks for being down with us on day one.
You can listen to:
http://www.GH3Radio.com
https://DashRadio.com/godshouseofhiphop
Contact
GH3
Leslie Logan
323-364-2330

Contact