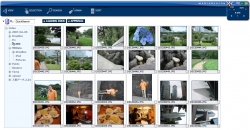 Minneapolis, MN, March 28, 2008 --(
PR.com
)-- MediaBeacon, Inc., today announced the official release of v2.0 of its MediaBeacon R3volution Enterprise DAM Suite and MediaBeacon M3taforms - standalone remote data submission and validation tool. MediaBeacon DAM solutions are web-based and designed for managing any type of media and documents in high availability enterprise environments.
MediaBeacon's Enterprise Digital Asset Management Solution
Highly anticipated, v2.0 is the next generation of the MediaBeacon R3volution DAM product line originally rolled out in December 2006. The powerful and feature-rich web-based DAM systems from MediaBeacon now include a sophisticated drag-and-drop agent for more efficient desktop production; a higher-speed search engine with live type-ahead, predictive typing, and dynamic thesauri validation; expanded support for a wide array of archiving solutions; expanded support for advanced authentication mechanisms including Active Directory, Open Directory and Oracle Internet Directory; enhanced video transcoding engine supporting video, flash and sound; administrator-editable Online Help System; and dozens of other performance enhancements and new features.
MediaBeacon M3taforms
MediaBeacon, Inc. spent several years developing a sophisticated library that allows its applications and OEM partners to embed and encrypt arbitrary business logic inside digital assets. Based on this library, MediaBeacon M3taforms is a standalone double-clickable application that contains arbitrary namespace-aware data forms and allows remote data entry and validation. Data is entered in an ISO standard (RDF, XMP) and allows smart, self-aware assets to empower various business workflows at any given stage of the assets' lifecycle. MediaBeacon M3taforms is available with both graphical user and command-line interface for enterprise-wide uses.
About MediaBeacon, Inc.
MediaBeacon is a 19-year old privately held and self-funded software development organization based in Minneapolis, United States. The company focuses on digital asset management solutions for medium and large enterprise clients. MediaBeacon solutions are perfectly suited for managing all media and document types in a single or distributed locations with granular security and high availability environments.
For more information about the company and available products and services visit www.mediabeacon.com
Worldwide Enquiries:
Cindy Haugejorde
MediaBeacon, Inc.
1.612.317.0737
###