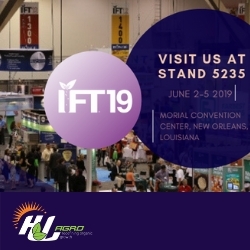 Kanpur, India, May 07, 2019 --(
PR.com
)-- HL Agro Products, one of the established players in the manufacturing of food ingredients in India, today announces its programmed exhibit at the forthcoming edition of IFT Food Expo in New Orleans, USA.
HL Agro
will join a league of 1200 exhibitors to display its manufactured range of sesame seeds, corn starch & corn sweeteners at the Booth space 5235, over Morial Convention Center in New Orleans, LA between June 2 – June 5, 2019.
IFT's Annual Event and Food Expo is one of the largest events of the food industry that brings together science of food professionals from around the globe representing all segments of the science of food profession—research and design, ingredients, safety and quality, technology, equipment, processing, packaging, manufacturing, suppliers and buyers, policy makers, and academics with the intention to inspire and transform collective knowledge into innovative solutions to help advance the global food & beverage industry.
Participating for the second consecutive year at IFT, HL Agro will attempt to proliferate its market share & position its products directly with the distribution segments in the American territory including CPG food companies, supermarkets, wholesalers, food service providers and importers / trade agents. At this session, the company's booth will feature a splendid repertoire of natural ingredient solutions and allow visitors to experience first-hand the purity & high-quality of its seeds and corn-based products.
IFT 2019 is expected to draw more than 23,000 food professionals from the industry, government, and academia representing over 90 countries. The main exhibit sectors of the trade show IFT are: Food ingredients, equipment, laboratory equipment and supplies, as well as other services rendered to the food processing industry. Leveraging on this acclaimed food conglomeration, HL Agro visions to enhance its global visibility & amplify its reach to the international markets.
Speaking on the participation, Mr. Akhilesh Sahu, Director of the company said, "IFT is one of the key events in our calendar. With event like these, we get the opportunity to channelize our industry outreach and introduce our brand to a multitude of potential businesses that are seeking to grow their product formulation & market share with the natural range of food ingredients."
About H.L. Agro Products:
HL Agro Products Pvt. Ltd is the flagbearer of six decades old HL Group of companies headquartered in Kanpur, India. HL Agro Products Pvt. Ltd. is a HACCP & ISO22000:2005 certified industrial entity and the noted exporter of sesame seeds, corn starch, liquid glucose & other corn derivatives in India.
Winner of the "Agri-Company of the Year" at the 2019 News Corp VCCircle awards, HL Agro Products has earned special accolades for its contribution to the agricultural economy & efforts towards enhancing the market share of the oilseeds & corn starch commodities at the national and global levels. The processing units at HL Agro are fully automated and well equipped with state-of the art technology, imported machinery making it truly the 21st century in its accomplishment. Built on the norms of Good Manufacturing Practices & HACCP guidelines, the plants are capable of processing 22000 MT sesame seeds annually & grinding 300 MT corn daily. HL Agro's sesame seeds processing unit is an SGS certified entity listed with Agricultural and Processed Food Products Export Development Authority (APEDA), India Organic, USFDA, Kosher, Halal & USDA Organic and Export Promotion Council. HL Agro now endeavours to burgeon globally by elevating its starch & corn sweeteners portfolio with an array of, Malto-dextrin, dextrose monohydrate, sorbitol, high-maltose corn syrup amongst others.