Best Web Development Company 2019 - Customer Experience – Winners at DCE Awards
Website Developers India, a software development company, awarded as the Best Web Development Company by Digital Customer Experience Summit and Awards in 2019.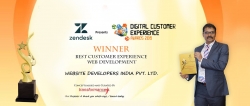 Mumbai, India, June 05, 2019 --(
PR.com
)-- Website Developers India Pvt. Ltd. is the proud winner of the Best Web Development Company 2019 - Customer Experience at the Digital Customer Experience Summit and Awards which took place at the Renaissance Convention Centre, Mumbai India. It was a spectacular awards ceremony attended by over 300 businesses and delegates from all over India.
Website Developers India Pvt. Ltd is amongst the best software development companies in India and has been awarded as the best customer experience (Website Development Company) on the 26th of April, 2019, by Digital Customer Experience Awards, 2019.
Amongst other awards, WDI has also received Best Web Development Company 2019, Top Website Developers 2019 (top firms), Certificate of Excellence 2019 (Bark), Best Mobile App Developers (Clutch) and many more.
Digital Customer Experience Summit and Awards, gathering its forms and conditions with emerging technology, have changed consumer needs and effective use of customer data for all critical elements while ensuring definite strategy as a powerful tool in a competitive and digital landscape. Transformance Forums MD Abidali Dossa said, "We were delighted to award Website Developers India as the winners for the Best Web Development Company (Customer Experience) award. As a software company, they have strong and clear plans for growth, superb ideas, great services and exceptional customer service records for over 19 years."
Speaking on the win, WDIPL CEO Ritesh Pandey said, "It has been a sight to watch our company grow this well, but the cherry on the cake is the Best Web Development Company 2019 award we received which I dedicated to my entire team who work extremely hard to achieve customer satisfaction and accolades. We are delighted and thankful to our customers, the jury and the team at Digital Customer Experience Summit and Awards for recognising us as a company and acknowledging our work."
Website Developers India Pvt. Ltd, Delivery Head, Rushabh Parekh said, "Special thanks to Transformance for nominating WDIPL and finding us suitable for this prestigious award. Personally, the arrangement was superb and the panel for the award ceremony was great. We are glad to be part of such a big award function and to get the best customer service award. It was amazing and we look forward to getting nominated for all future awards. WDIPL has been and will continue to be a great service provider for all customers."
Website Developers India Pvt. Ltd, Director Sales Piyush Panchal said, "Receiving such a great honour were the results of the tireless efforts our entire team at WDIPL has made. We are absolutely grateful to be notable among so many top-tier agencies and indebted to Digital Customer Experience Awards for recognizing and appreciating our great work, in the web designing, development and promotion realm."
Mr Pandey (CEO) also added, "As a key planner in the website and mobile app development space, I believe that hurdles are significant because they make life interesting and meaningful. At WDI we always explore all avenues before planning a project and finalizing deliverables. Our Web Development, Mobile App Development and Software Development services are client-focused, which help us make our virtue in today's cut-throat competition."
About Website Developers India Pvt. Ltd.
WDI is an ISO 9001:2008 Certified Web Development Company in India, offering services like Website Development, mobile app development and Software Development to customers in over 20 countries since 1999. As a leading software development company, WDI has been delivering high-quality services adhering to strict time frames and highest quality software and applications. They have a large list of satisfied customer base and earnest endeavour to offer the best possible solutions that result in returning global clientele.
WDI uses Agile SCRUM for project management and has been working with start-ups and businesses to deliver Web applications, Mobile applications and software solutions as MVP's as well as turnkey solutions. They have good experiences in managing a large online business as well as expertise in emerging technologies and global trends. With offices in 5 countries, they are geared to cater to customers in USA, UK, Europe and Australia alike.
Know all about the company on https://www.wdipl.com/
Contact Number: (+91) 22 61274401 / (+91) 9820004855
Address: 206/207, Orbit Premise
Mindspace, Malad (West),
Mumbai - 400064
Contact
Website Developers India Pvt. Ltd.
Ritesh Pandey
9820004855
https://www.wdipl.com

Contact