SweetandSavoryMeals.com Announces 5 Easy Summer Recipes to Make During Busy Weekdays
SweetandSavoryMeals.com is presenting 5 Delicious and Easy Summer Recipes to enjoy during busy summer days. They are quite easy to make, taste delicious, and are great for kids and adults alike. Especially with the kids now being home, these recipes will come in handy. Below are the most popular and favorite dinner recipes to make from the Sweet and Savory Meals blog. These recipes, combined, have over 30 million views on social media to date.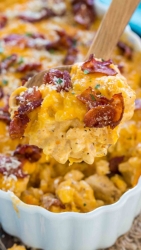 Parsippany, NJ, June 14, 2019 --(
PR.com
)-- Sweet and Savory Meals is a blog by Catalina Castravet aimed at cooking and baking enthusiasts who love both cooking traditional meals and experimenting. There, clients can find simple and delicious recipes, as well as techniques and tips on cooking amazing meals. Also, the blog includes step-by-step recipes and videos to instruct you on the tiny, yet very important details, like choosing the appropriate temperature or garnishing meals; all you need to become a cooking pro while keeping a busy schedule.
For people who are looking to discover some new favorite easy summer dishes, or simply enjoy a delicious homemade dinner, this is the nice list to have.
1.
Best Mac and Cheese Casserole
This Mac and Cheese recipe is not only creamy, cheesy, and flavorful, but is super easy dinner to make for busy families. Ready in about 30 minutes, this dish is ideal for kids and adults alike.
2.
Crockpot Chicken and Rice
Crockpot Chicken and Rice is healthy, delicious, and super easy to make. This is a full family meal that is ideal during busy weeknights. Made with brown rice, chicken breasts, and lemon, this meal is gluten-free and kid-friendly.
3.
Oven Baked Chicken Breasts
This delicious dish is well seasoned and super juicy. An easy recipe and ready in about 30 minutes. In addition, it is budget friendly and healthy. Made with a mixture of herbs, olive oil and butter, it has the right balance and texture.
4.
Best Meatloaf Recipe
Although meatloaf might sound like a complex dish, this recipe is quite the opposite. Making it at home is simple, and followers only need a few ingredients to feed a large crowd. This recipe will result in one tender meatloaf with moist and super flavorful meat.
5.
Cheesy Crack Chicken Casserole
This is a classic casserole that is simple to make yet great to feed a larger family. Also, it is flavorful and creamy with tender chicken, and topped with bacon.
Contact
Sweet and Savory Meals
Catalina Castravet
(551) 233-8845
https://sweetandsavorymeals.com

Contact