Immortal Works Press Releases The Midnight Call by Jodé Millman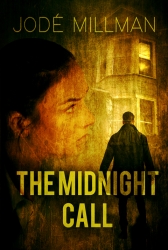 Salt Lake City, UT, July 01, 2019 --(
PR.com
)-- Immortal Works Press is proud to announce the release of The Midnight Call by Jodé Millman. This is Ms. Millman's debut novel. The Midnight Call was short-listed for the 2014 Clue Award and received the First Place Blue Ribbon as "Best Police Procedural" by Chantireviews.com.
Ms. Millman's novel was inspired by true events from her own past. In 1979, Albert Fentress, a former teacher of Ms. Millman's, tortured and killed 18-year-old Paul Masters. The case became the first in the New York history to accept a plea of not guilty by reason of insanity.
Ms. Millman chose to write the story because it was so close to home. "I knew the family of the victim," she said. "I had just graduated from law school when it happened. I wanted to do the story because it was something that had nagged me for a long time."
About The Midnight Call:
Who would ever suspect that their mentor, teacher, and friend is a cold-blooded killer? Attorney Jessie Martin didn't—at least not until she answers the midnight call. Late one August night, Jessie's lifelong mentor and friend—and presently a popular, charismatic, and handsome high school teacher—Terrence Butterfield calls. He utters a startling admission: he's killed someone. He pleads for Jessie's help, so out of loyalty she rushes to his aid completely unaware that she's risking her relationship, her career, and her life—and that of her unborn child—to help Terrence.
To reclaim her life and prove her innocence, Jessie must untangle the web of lies and reveal the shocking truths behind the homicide. This quest turns out to be the fight of her life: to preserve everything and everyone she holds dear.
About Jodé Millman:
Jodé is a lifelong resident of Poughkeepsie, New York, which serves as the setting for her legal suspense novels. In her writing, she draws upon her experiences as an attorney to capture the tensions that arise when a small community is rocked by tragedy.
She received her BA and JD from Syracuse University. Presently, she co-hosts and co-produces the Backstage with the Bardavon Podcast.
Jode is a member of Mystery Writers of America, International Thriller Writers, Sisters In Crime and Romance Writers of America. Her legal column can be found in InSincC, The Sisters in Crime Quarterly.
If you would like more information about our authors, upcoming releases, and our Flash Fiction Friday podcast, visit us at www.immortal-works.com to join our mailing list.
Contact
Immortal Works Publishing
Talei Lawson
(801) 850-1806
www.immortal-works.com

Contact