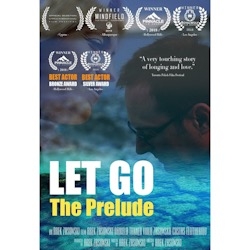 Las Vegas, NV, July 20, 2019 --(
PR.com
)-- It is one of the special moments for Arek Zasowski this July as Arek has just learned that his short drama "Let Go: The Prelude" will be screened at the Silver State Film Festival in Las Vegas, NV.
"Let Go: The Prelude" is somewhat special to Arek Zasowski as it is the very first short film that he wrote and directed: "so having it screened with the live audience at such a great location in Las Vegas - the Century Orleans 18 and XD Movie Theatre at the Orleans Hotel & Casino Las Vegas, is definitely a special moment in my acting and filmmaking career," Arek chuckles.
In "Let Go: The Prelude" Arek Zasowski portrays an adventurer archaeologist Henk, who, after losing his fiancée in an accident, is struggling to recover and return to his normal life.
The film explores Henk's emotional side and tries to find an answer to a more general question that we all experience in our life at some stage, how do we cope after losing someone dear that we truly love?
When asked about the screening Arek replies: "I'm really excited about the Silver State Film Festival as it is the very first time 'Let Go: The Prelude,' which was entirely filmed on the island of Cyprus, will be screened at the film festival in the USA, our US premiere in a beautiful location in Las Vegas." Until now, "Let Go: The Prelude" was screened on a big screen at a film festival in Cyprus.
To see "Let Go: The Prelude" on a big screen and meet the cast, including Arek Zasowski and Viola Zasowska (who portrayed the role of Tiffany), please come to the film festival. The exact screening date and time will be announced soon so please follow Arek Zasowski on social media channels for the latest news.
Arek Zasowski is an international actor and film director, the new talent, who over the past three years won multiple awards, including Best Actor and Best Director, at film festivals in the USA, Canada and Australia.
Arek Zasowski started his acting career in 2016, in London (England) where Arek took acting classes with English actress and acting coach Valerie Dent, as well as a variety of short term acting courses and Acting for Film workshops at the New York Film Academy in Los Angeles, New York and Florence (Italy) where Arek learned from some of the most prominent and reputable actors and acting coaches in Hollywood, including Los Angeles based, actor Martin Thompson.
To find out more about Arek Zasowski please visit Arek's official IMDb profile: IMDb.me/ArekZasowski, the official ArekZasowski.com website, and follow Arek on Instagram and Twitter @arekzasowski.