International Radio Single Release Pipe of Peace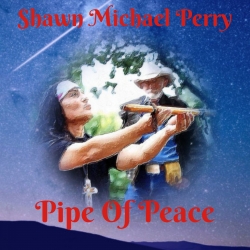 Sedona, AZ, August 13, 2019 --(
PR.com
)--
store.cdbaby.com/cd/shawnmichaelperry5
Shawn Michael Perry & Only The Brave
Now in 2019, Shawn is primed to finish his new EP with Wanted a Good American, Brother in Arms, Dirt Dust n Gasoline and Pipe of Peace. Shawn just completed, in the studio, Pipe of Peace thanks to Grammy winner Frank Deville Greenfield, NicNak Studios, Pulahaole Studios, Vocalist Sharron Moore, OTB Recordings & Entertainment, Alliance Distribution, Only The Brave Music, Belinda Perry, Tina M Kramer, Native Family Radio, Indigenous in Music, KWLP The Peach, Native Voice 1, and Krave radio. Stay tuned for Shawn's new song Pipe of Peace.
Highlighting the human experience as seen through indigenous eyes. The strength of his music and beauty of his words was enhanced.
Shawn has opened for and shared the stage with Redbone, Badlands, Bill Miller, Brian Adams, just to name a few.
Shawn's video "Forever" continues to get critical acclaim. Together with his band, "Only The Brave," Shawn is on the road spreading his message.
Shawn Michael Perry & Only The Brave Special Edition was nominated for multiple awards for the L.A. Music Awards.
Shawn Michael Perry has taken multi-hyphenate to new heights. This singer, songwriter, actor, educator and activist was born in Southern California into indigenous heritage; his mother, (Panamanian of Mayan ancestry), Shawn has embraced his culture, past and present with an eye to the future.
The strength of his music and beauty of his words was enhanced by producer John Avila who produced Shawn's first album, the talented bassist/producer of Oingo Boingo.
Final polishing was added by the skillful mastering techniques of Ron McMaster (Capitol Records).
Contact
Only The Brave Recordings & Entertainment
Belinda Perry
928-282-0600
www.shawnmichaelperry.com

Contact