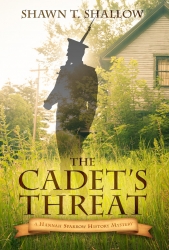 Lac du Flambeau, WI, September 06, 2019 --(
PR.com
)-- Cozy Cat Press recently released the first book in a mystery series that features a female detective from the Chippewa nation. The book, "The Cadet's Threat," introduces a fictional sleuth named Hannah Sparrow who relocates from her tribal homeland on Lake Superior, to the deep south. There she uncovers murder and mayhem in a Southern town steeped in Civil War history.
"Traditional mysteries tend to feature Native American men who investigate crimes on tribal land," said author Shawn Shallow. "Add the fact that she's a history geek determined to solve a century old puzzle, and you have colorful tale."
In the book, Hannah Sparrow, leaves her corporate job in the Midwest to pursue the quiet life of a small Alabama town. There, she becomes fast friends with her neighbors, Earl and Lisa, who introduce her to life in the Land of Dixie. The three volunteer at the archeological remains of LaGrange Military Academy, formerly known as the West Point of the South. Hannah's invited to view the school's archives, where she stumbles upon a century-old cadet journal detailing conflict and intrigue at the academy. When the journal ends with the disappearance of the cadet and a mysterious riddle, Hannah and her friends set out to solve the mystery. But their investigation leads to long-buried secrets that some in the town would prefer to remain forgotten. Thus, a race begins to solve a century-old riddle before Emma becomes the next victim.
"It's been a treat trying to integrate a Native American perspective into an area steeped in American Civil War history," continued Shallow. "And, given that the Chippewa are under-represented in popular literature, it's an honor to bring a Chippewa woman to the forefront." The Chippewa nation is one of the largest tribes in North American with over 250,000 members across several US states and Canada.
Shallow's first book, "Rescue at the Top of the World," gained recognition after having excerpts featured annually on the History Channel. This recognition led to a lecture series and several appearances on radio talk shows. The new series likewise incorporates historical themes, but moves from the far North, to an area in NW Alabama sitting at the center of several US historical events. Events range from the development of the Apollo rocket that put America on the moon, to the founding of the US recording industry.
"The Cadet's Threat" can be found on Amazon.com. Readers can also visit shawnshallow.com or the publisher's website, cozycatpress.com for more information.