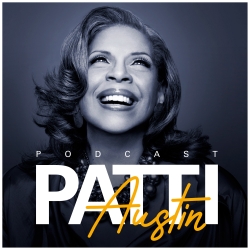 Los Angeles, CA, September 17, 2019 --(
PR.com
)-- Grammy Winner Patti Austin launches her Podcast Series Sept. 30, 2019.
Grammy Award artist Patti Austin has a lifetime of stories to share. Her pedigree as the goddaughter of Quincy Jones and Dinah Washington gave her access to some of the greatest legends in show business, including Judy Garland, Lena Horne, Ray Charles, Liza Minelli and many more.
From top call studio session singer to recording artist, to international touring artist and teacher, Patti is unquestionably a 21st century renaissance woman who continues to create milestones in an already incredible career; a further testament to her status as a member of that rare breed: an artist whose creativity knows no limits.
Now her gift as a master story teller is on abundant display in the first season of The Patti Austin Podcast. Each episode is like Jazz, free form improvisation moving from subject to subject, taking the listener on a wild stream-of-consciousness journey before returning them to the essence of her theme. These are the skills she mastered from Jazz and her stories are like "riffs," taking us on her fascinating true-life adventures as an artist, a black woman, a survivor in an industry that embraces trends over artistry.
The Patti Austin podcast is available anywhere you get your podcasts but as an added bonus future episodes will feature exclusive content available on Pandora Stories. Pandora's innovative new service marries music with the stories from artists. Currently traditional podcasts talk about music but leaves the listener on their own to search the music that provides contexts to the spoken word.
True to her reputation as a force of nature, Austin has already begun work on a second season of podcasts, this time in response to one of the questions she's most frequently asked, "How do you keep the music playing?" Austin will offer insights into her unique approach to life and offer resources and tips that have kept her evolving as an artist and as a person. The new episodes will also include guests from all walks of life. Austin hopes that these stories will inspire people to find their own secrets to keep their "music" playing.
The Patti Austin Podcast is being produced by the award-winning creators of the Dave Koz Radio Show and The Donnie McClurkin Show - T&T Creative.