Silver State Film Festival 2019 Highlights
Highlights from the 2019 Silver State Film Festival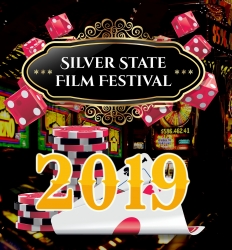 Las Vegas, NV, October 01, 2019 --(
PR.com
)-- The 2019 Silver State Film Festival ran September 4-8 at The Century Orleans 18 and XD Theatre located within The Orleans Hotel & Casino in Las Vegas. A great time was had by all who participated in the event. The festival included an awards ceremony and closing party. Film festival highlights and must see films below.
Hope is French
Directed By: Christopher Mack
Produced By: Clarence Tokley
Inspired by Schrödinger's Cat, Hope is French is a cat-in-a-box tale. Hope is funnier with a French accent. Everyone has had a bad hair day. A day where, no matter how well it starts, can be emotionally destroyed in moments by things that are out of control. These moments, and people's reactions to them, are incredibly tragic, but also darned funny. With the gift of time, people can look back at the worst problems with laughter. The human spirit is so great that it will do anything to keep on going. There is always hope. This film is about those horrible (and funny) moments. This is why Paris was chosen as the backdrop for Polly's story. It's like life.
The Witching Hour
Directed By Steven La Morte
Produced By: Thom Michael Mulligan, Rian Bishop, and Lizet Benrey
Lizet Benrey and Thom Michael Mulligan met in an acting class at Halo Cinematic where they found out they both had a life story to tell. Realizing the great chemistry on camera between them, Thom and Lizet decided to write about both of their experiences which blended fluidly into one human and deeply moving story. The Witching Hour emerged from a scene Thom witnessed as a child. This scene was deeply engraved in Thom's memory throughout his life. From that one episode, the whole story of The Witching Hour was developed by integrating Lizet's personal experiences into that world, which turned out to be both alienating and extremely unfulfilling. The Witching Hour is told through dialogue, unspoken words, and it develops in only one location. It explores the trials and tribulations of a rocky marriage that is about to fall apart, as well as the deep love the protagonists feel for their baby girl Marie, who was born with a disability. The short film walks the line between love and hate, truth and distrust, and the profound desire to save what once was a pure and ideal love.
Cross Over
Directed By: James Horton
Cross Over has been described as an eccentric mix of Paranormal Activity and Pulp Fiction. The payoff scenes satisfy almost any horror movie fan, and is unrelenting once the ball gets rolling. The build-up is slower and meticulous, weaving in and out of flashback events in the 1800's, allowing the quirkiness of the characters to fully develop. Humor strategically punctuates the complex web of conflict. The entire experience is most commonly described as suspenseful.
Bequest
Directed By Richard A. Pines
Bequest is a heart-wrenching film that continues to garner multiple awards. It captivates viewers who empathize with complex characters - the old Civil War veteran dying of Parkinson's, his great, great grandson (Rico) who discovers the relic weapon which becomes "the root of all evil," and Brooke, (Imelda Paclibar, Best Actress-Silver Award, Pinnacle Film Festival) the vulnerable woman suffering from mental illness gets victimized by her best friend's conspiracy.
Let Go: The Prelude
Director Arek Zasowski
Let Go: The Prelude is the very first short drama written directed and starred by award winning actor Arek Zasowski, with Viola Zasowska, Daniela Tanner, Costas Eleftheriou and Paul A. Taylor amongst other talent. The short film depicts the story of an adventurer archaeologist Henk (Arek Zasowski), who, after losing his fiancée in a tragic accident, is struggling to recover and return to his normal life. The film explores Henk's deep love to Tiffany and his great struggle as he tries to find an answer to a more broad question, how to cope after losing someone dear that he truly loves in his life. Filmed on beautiful island of Cyprus, Let Go: The Prelude has a Las Vegas Premiere at the Silver State Film Festival.
Alba
Directed By: Elizabeth Soto Lara
Produced By Natalia Fuentealba and Julian Bueno
A theatrically designed silent film about people's need for autonomy – something that is so primarily human – goes, well, not quite right. Director Elizabeth Soto-Lara's 'Alba' portrays the eponymous heroine as a marionette, controlled by her family, who wants her to stick to the path of award-winning baking. Award-winning though it may be, Alba (played by Natalia Fuentealba, who has also co-written the script with director Soto-Lara) is less than happy living her days baking cupcakes – her feelings about her life portrayed by the literal strings which control and dictate her movements. In 'Alba', as in life, breaking free is not easy, especially when breaking away from family. But make a choice she must; whether to stick to the trodden path or find her own. The film makes a dramatic portrayal of this monotony, dilemma and Alba's final choice.
White Christmas
Directed By: Jeff Kanew
Produced By: Camryn Kanew
Nikki and Jason are young and attractive. They met in rehab. She's a heroin addict. He's only dabbled in cocaine. Until Christmas eve, Jason decides to experience smoking heroin to see why it is more important to Nikki than their relationship. They are also dependent upon financial support from her wealthy parents, and must attend the parents' holiday party, even though they're still high. It's a challenge...but they seem to be handling it. Until a cousin tells Nikki a family secret that could either change their lives...or destroy them.
House of Redemption Hear Me
Directed By Tammy Klembith
After being lured in myriad ways to a certain house, guests check in but can't leave without being forced to face their past actions and ultimately themselves. All people have secrets... But even when people try to hide from the truth, it still exists. In a world where deception and duplicity abound, and where people think they can get away with anything in this house, actions have consequences. The opening chapter in this psychological horror anthology takes a young traveler on a seemingly innocent getaway that turns into a nightmare, as she is forced to face her own brutal truth.
Cave of Da Vinci
Sofia Drai
After falling out of favor with the other organized crime families in Chicago, Don Freddy flees to Italy. Once there, longing for the thrill of the score, Freddy attempts to come back to the business of crime but has no underlings to do the dirty work. Meanwhile, two petty thieves break into Freddy's Italian villa, only to be surprised to find him home. Now the Don is in his true station as if he's a conductor of a great orchestra toying with the two crooks.
Crying FU Lady Rap
Directed By Patricia Caesar
Indie Fest Winner Crying F. U. Lady Rap is a comical look at Pat's heartfelt tears from election night Nov. 2016 through today. Pat now proudly wears those tears as a badge of honor. Watch a comical visualization of lies and broken promises by this current administration living in the White House, that will adversely affect a wide variety of people who live in this country to the point of sheer madness. She's asking all voters to exercise the right to vote to stop the liars and this insanity.
My Brother Wes
Directed By: Tom Suzuki
Produced By Reggie Luck
After watching his grandson play video games for hours at a time and seeing videos of how kids try to repeat what they do in video games, the filmmaker was inspired to show the tragic side that can come from the dysfunction in the home, kids trying to emulate grown-ups and what can happen when fantasy meets reality.
Jacpott
Directed By Justin Durivou
Produced By Noemi Durivou
Jacpott is about how family matters can lead to a desolate road where there are no more exits to turn off, and problems are there to meet and greet with a wide-grim-smile. The inspiration came from, one part, Jackpott, Nevada; a small town with one stop light, one stop sign, and a big casino, and one part, a family uncle. With a gun stuffed in the butt of his pants, and a suitcase with a gold bar strapped in it, Jacpott leads viewers through a dying desert town with a 'Jacpottonian' returning home after seven years with a dirty rap sheet from a dirty casino.
I am Bansky
Directed By: Samantha Casella
The mystery that envelops Banksy's identity has undoubtedly helped make the British artist a mysterious, fascinating figure. His works recall themes related to the absurdities that characterize Western society, the media manipulation, the homologation of individuals, the atrocity of war, pollution and child exploitation.
The Legend of the White Ibex
Directed By: Markus Otz
Produced By: Luisa Neri
The Legend of the White Ibex is a poetic-philosophical tale of existential stamp, with a simple structure but rich in references presented lightly and powerful in meaning. The repeated nightmare thoroughly dominates the nights and life of Lukas. Also this morning, two pan-fried eggs almost perfect but inexorably ruined in a throw-away omelette, are the symbol of the denied resurrection.
Martinis at the Smoke House
Directed By: Joe Toppe
Produced By: Jake Rice, Jennifer Stewart and Lee Dawson
The famous Smoke House Restaurant in Burbank has been serving martinis from the likes of Humphrey Bogart to George Clooney for over seven decades. Conveniently located directly across from Warner Brothers Studios, these legendary walls have stories upon stories of Hollywood lore seeped in afternoon cocktails to midnight meetings. Join along for a drink or three.
Wine Bottles
Directed By: Kate J. Tuxford
Produced By: Jeremy Manning, Lauren Marrero and Kay Tuxford
The West Coast Premiere was Saturday, September 7 @ 2:00 PM at the Silver State Film Festival with a Q & A session with Cast and Crew following the screening.
Roses are Blind
Directed By: Gui Agustini
Produced By: Wendy J White and Christina Jolie Breza
Roses Are Blind is a short film based on the true life story of a playwright and artist during her years as a pre-med student at Columbia University in NYC. The events happened in 1979 but were adapted to present day. It's a fascinating cruel story about the revelation of a family secret that completely turned a daughter's life upside down.
Love Thongs
Directed By: Carlo Essagian
Love Thongs is a short comedy about a very sexually active couple who seek out the help of a therapist in order to split up and put an end to their naughty adventures. The therapist, distracted by the couple's anecdotes, believes they don't need to split up, as he normally tries to get couples somewhere near where they are at, but his suggestion to 'reign it in a little' is met with a surprise.
CLARENCE CLEMONS: WHO DO I THINK I AM?
This film highlights Clarence's life as a musician and member of the E Street Band while also presenting another side of Clarence not many saw when he was away from bright stage lights. It's an intimate portrait of a man who searched for enlightenment and meaning at the unknowingly final years of his life.
The Faces From Mars
Directed By: Ryan Barnes
The Faces From Mars is a short feature directed by Ryan Barnes. Filmed in North Hollywood, the film features groundbreaking performances from various actors and recently won Best Sci-fi Short at the Silicon Beach Film Festival. It questions the irony of space exploration considering the problems we face here on Earth and the inherent scientific risks of a Mars Colony.
Star Eater
Directed By: David Carpenter
A chilling Body Horror film is coming to Vegas. Star Eater is a glimpse into the tortured mind of a young man struggling with Body Dysmorphic Disorder. It examines the conflict between ideal and demonic self-image. Watch as this ghoulish reflection warps an identity.
Guitar Man
Directed By: Rocky Capella
Produced By: Ray Robinson
Guitar Man is about lifelong musician (Buzzy Martin) who began teaching at-risk kids' music. Through this experience he was given the opportunity to teach a music class inside San Quentin State Prison. He returns to his younger at-risk students with stories about the reality of prison life, desperate to teach them that prison life is not the streetwise 'badge of honor' that some of them are aspiring to claim. The dangerous paths down which they were headed can be replaced by real hopes and dreams.
My Declaration
Directed By: Jiayi Li
Produced By: Wanyin Tang
The desert is a suitable place to carry some particular emotions as environmental emotional modeling. Western cowboys are also an indispensable part of American culture, especially the heroism and adventurism that it extends. It can better prop up theme exploration, and the deeper meaning of 'being-towards-death' and 'heroes twilight.' Characters who are in extreme cases of helplessness and despair can impress and shock people. This is the most real human nature, and sometimes choosing self-destruction is also self-salvation.
Hustle
Directed By: John McKey
Produced By: Carey Williams
Hustle follows a day in the grind of Mr. Smith, an aspiring young investment banker with ambitious goals, and dubious tactics. He keeps himself meticulously prepared for any possible situation through a regimen that includes a rigorous morning workout running sprints... in dress shoes, followed by a meticulous rehearsal of his sales pitch while he dresses for business. The day will see him face challenges from customers, both potential and disgruntled, that will test whether Mr. Smith is fully prepared for the Hustle.
Ascent
Directed By: Mark Brocking
Ascent was filmed over four weekends, mostly in a wonderful old Victorian building near Brick Lane in East London. Here was the notary's office, Valerie's studio, her bedroom and the dark staircase that lends the film it's spooky atmosphere. Ascent was filmed in two cemeteries and the beautiful English countryside that ended up being mobbed by a herd of cows. There was extensive post-production work in terms of editing, special effects and grading that took a lot longer than the pre-production and the actual shooting of the film. The filmmakers are very happy with what they achieved with the resources that they had.
Leland
Directed By: Jason Honeycutt
A genius daughter (Taiana Tully) cannot live her life until her deadbeat father (Garret T. Sato, "The Wolverine," "Pearl Harbor") figures out his. "Leland" is a film about what happens when someone benefits from his family, yet, he refuses to help anyone else - including himself. His daughter is bound by her sense of ohana and she is the last person who believes in him, as his family crumbles around them both. She starts to realize that the burden of taking care of her dad is standing in the way of her dreams. What will it take for some people to change? Award-winning "Leland" was written, edited, directed, and filmed in Hawaii over five days by a one person crew; filmmaker Jason Honeycutt, the writer and director of the award-winning "Supermom."
The Bel Loc Diner
Directed By: Raissa Contreras
The Bel Loc Diner is a black and white, cinema verite look at an infamous cultural mainstay just outside of Baltimore City. Shot primarily in Kodak 16 mm. film, it pays tribute to a rapidly evaporating slice of American life. It premiered in LA at the historic Grauman's Chinese Theater with the Golden State Film Festival in March 2019.
The Ringmaster
Directed By: Molly Dworsky and Dave Newberg
Produced By: Zachary Capp, Joshua Capp, Daniel Capp, Dave Newberg, Molly Dworsky, Pete Berg, Julian Williams, Drew Johnson, Sean Brogan
Upon his grandfather's death, a recovering gambling addict from Las Vegas uses his inheritance to make a documentary about well known onion rings from his childhood and the beloved Minnesotan chef who makes them. His project changes drastically when this fledgling filmmaker becomes hellbent on improving the humble fry cook's life, despite discovering his subject wants nothing to do with the film. The movie becomes something else entirely when the crew members secretly turn the cameras on the filmmaker, documenting his efforts and failures over a three year journey.
Sammy
Directed By: Dana-Lee Mierowsky Bennett
Produced By: Rachele Wiggins and Enzo Tedeschi (EP)
Sammy, the short film follows a ten year old girl displaced from war who struggles to build a hot air balloon so she and her little brother can find their parents. Shot in Sydney Australia, Sammy stars Coco Jack Gillies, Heath Jelovic, Rob Flanagan, Harry Pavlidis and Tanika Douglas. Sammy screened at the Silicon Beach Film Festival in LA where it won Best Family Short. Sammy was nominated for Best Female Director, Best Sci-Fi Short and Best Child Actress, winning Best Child Actress at Indie Shorts, the Los Angeles International Film Festival in LA. Sammy was in the Australian Academy of Cinema Arts Social Shorts Film Competition, where it came in the top four for the audience choice award. The short took out Semi Finalist and Finalist at JellyFest in LA. Sammy has been officially selected as part of the Kids First Film Festival, the world's largest film festival for kids in Santa Fe, New Mexico where it will screen across numerous locations.
Contact
Silver State Film Festival
Jon Gursha
818-633-5404
http://silverstatefilmfestival.com
Peter Greene
310-924-9668

Contact