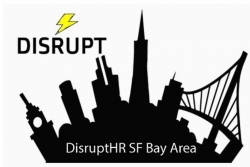 San Jose, CA, October 02, 2019 --(
PR.com
)-- Announcing a
Provocative HR event
.
How many HR events have you been to where there wasn't much learning? DisruptHR SF's goal is to give attendees four hours of an intense learning and social experience from the most provocative thought leaders who qualified as excellent TedX-like speakers. Deloitte's top futurist, John Hagel will lead nine other CEOs, authors, and Fortune 500 executives in a medley of topics that weave together to define the human-centric organizations. The workforce is shaping the purpose of organizations and CEOs are seeking to address stakeholder value. HR is now is a position to be the catalyst for stakeholder driven cultures.
Come participate, brainstorm, and socialize with peer at the beautiful
Domenico Winery
. They will service wine, drinks, and munchies.
Learn more
.
"It is my pleasure to sponsor and work with a wonderful dedicated team to deliver another compelling DisruptHR event. Our passion is to build a community of speakers and participants who want to bring a fresh reality to the future of work." – Michael Grove, CEO,
CollabWorks
Attendees will have the opportunity to hear from some of the best and brightest HR minds in the heart of the Valley. Please join the speakers who are training to give you an outstanding experience. DisruptHR SF's goal is to surprise and challenge individuals to foster organizations to be a more innovative and inspiring workplace.