South Texas Securities Co. is Launching a New Website Providing Enhanced Functionality and Easier Access to the Resources of the Company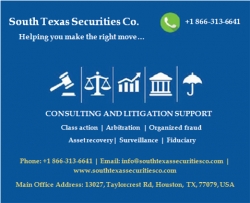 Houston, TX, October 08, 2019 --(
PR.com
)-- Located in Houston, Texas, United States of America, South Texas Securities Co. are investor advocates who represent local and international investors who are victims of fraud by the securities brokerage houses or individuals.
South Texas Securities Co. has recently launched their new website www.southtexassecuritiesco.com with a completely new look. The design provides the users with content in a faster and easier way with a friendly interface and interactive menus.
South Texas Securities Co. was established in the year 1969 under the name Data Advisers Incorporated. The company has a rich experience of 50 years in the securities industry and is one of the market leaders. Headed by Mr. Frank E. Hartung for over 50 years, South Texas Securities Co. feels his insight and expertise in the industry can help investors identify potentially harmful agents and brokerages. South Texas Securities Co. is a member of the Financial Industry Regulatory Authority (FINRA) and Securities Investor Protection Corporation (SIPC).
South Texas Securities Co. is a corporate and commercial litigation boutique ensuring their clients get the best of the best legal solutions they deserve with strong expertise and experience in legal jurisdictions across the globe. Their success rate speaks for itself. Their victories across the U.S. local courts and other international courts are a hallmark of their hard work and expertise in the laws of the land.
The main attributes to their success include but not limited to:
1. Strong physical presence across most of the countries in the world
2. A Strong relationship with local law enforcing agencies across the world
3. Use of High-end technologies like tracking techniques and surveillance tools
4. Use of tried and tested investigative systems
5. The strong team comprising of industry-leading IT experts, analysts, researchers and legal experts who could enable cross-border crime syndicates to be uncovered and dismantled
In recent years, South Texas Securities Co. has been able to successfully track high profile fraudsters and exposing their modus operandi and thereby revealing the money trail and their assets. South Texas Securities Co. is committed to assisting their clients in their fraud recovery needs.
Services offered by South Texas Securities Co. include but not limited to:
1. Class Actions
2. Asset Recovery
3. Securities Arbitration
4. Breach of Fiduciary
5. Serious and Organized fraud
6. Ponzi Schemes
7. Investigation & Surveillance
8. Churning Abuse
South Texas Securities Co. offers the clients to reach them through their telephone number +1 866-313-6641 or by the newly launched website www.southtexassecuritiesco.com. Their new website is creative, interactive and gives detailed information on all the services provided by the company. One of the main purposes of launching this new website is to facilitate the current and prospective clients with easy access to the company and its resources. Users can browse through the website to understand the various cases of fraud handled by the company. South Texas Securities Co. also wants to educate the public on the various fraudulent mechanisms prevalent in society and their new website is one of the means of creating awareness among investors.
Mr. Frank E. Hartung, the company's Chief Compliance Officer (CCO) and Managing Partner, states, "The way information and technology have evolved, has given more people easy access to information that can potentially save their investments, using the internet is a great source as well as being time efficient." He does, however, have some reservations about the quality of the information provided.
Mr. Hartung highlights that only by examining a large pool of brokers, investors can identify brokerages much more likely to harm buyers. He says, "It is a common error to assume that because individual brokers can be found on websites and, in the aggregate, these details are useful for separating risky broker agents from lower-risk agents that useful information is publicly available. The creators of these sites need regulators to make sure such information is available in mass volume so researchers have simple metrics they can use to safeguard themselves."
To finish he says, "I hope people don't have to use our services as we do hear some unfortunate stories from time to time, but we are always here to help and have the most up to date resources at our disposal."
South Texas Securities Co.
Representing local and international investors who are victims of fraud
Business Phone: +1 866-313-6641
Email: info@southtexassecuritiesco.com
Website:
www.southtexassecuritiesco.com
Contact
South Texas Securities Co.
Mr. Frank E. Hartung
866-313-6641
https://www.southtexassecuritiesco.com
Business Phone: +1 866-313-6641
Email: info@southtexassecuritiesco.com
Website: www.southtexassecuritiesco.com

Contact