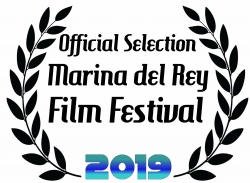 Los Angeles, CA, October 12, 2019 --(
PR.com
)-- Voted as a "Top 100 Best Reviewed Festival" by FilmFreeway, the Marina del Rey Film Festival is a fall favorite for enjoying independent films. Jon Gursha, Festival Director states, "We are proud to present the 8th Annual Marina del Rey Film Festival at the Cinemark 18 and XD (HHLA) at The Promenade at Howard Hughes Center in Los Angeles."
According to Peter Greene, Program Director, "It's going to be an exciting festival that will feature a wide variety of interesting and original independent films from around the world for audiences." Film screenings will begin on Friday, October 18 and will continue through Thursday, October 24 with shorts, full length features, and Q & A sessions with the filmmakers. The film screening schedule for the festival can be found on the festival website, marinadelreyfilmfestival.com. Additionally, tickets can be purchased in advance on the festival website, marinadelreyfilmfestival.com with day passes and full festival passes available.
The Kickoff Event is set for Thursday, October 17, at 7:30 pm at "The Warehouse Restaurant" in Marina del Rey and will feature a panel discussion led by filmmaking experts Jason Kanjiro Howard and Jean-Francois Cavelier. Jason Kanjiro Howard is a Writer, Filmmaker, producer, executive producer and consultant for films with over 25 years of experience on the development side, production and distribution. Jean-Francois Cavelier is originally from Paris, France, and has thirty years of experience in International and Domestic Film Sales, Distribution and Production as well as in the Marketing of both high profile and independent feature films.
Following the festival, a "Best of the Fest" film awards presentation ceremony will be held on Friday night, October 25 at "The Proud Bird" food bazaar & events center. Contact information can be located on the festival website.
The Marina del Rey Film Festival is an independent film festival located in Marina del Rey in Los Angeles and is currently in its eighth year. The festival provides independent filmmakers from around the world a platform to showcase in the film capital of the world Los Angeles in high quality settings. The Marina del Rey Film Festival was founded by Jon Gursha and Peter Greene. Marina del Rey provides filmmakers from around the world a high quality setting for this extraordinary event. To learn more about the Marina del Rey Film Festival, please visit: www.marinadelreyfilmfestival.com