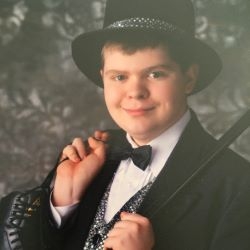 Plano, TX, October 25, 2019 --(
PR.com
)--
Chamberlain Ballet
announces this year's special guest artists appearing in their annual production of The Nutcracker. New York City Ballet Principal Dancer, Tiler Peck, will perform as the Sugarplum Fairy. Her Cavalier for the performances is guest artist Tyler Angle, also a Principal Dancer for New York City Ballet. Both Ms. Peck and Mr. Angle have thrilled audiences with their pas de dux choreographed by the late George Balanchine.
Joining them is special guest artist Michael Hart. Mr. Hart is a local artist, and an individual with Autism raised in the Collin County area. He attends H.E.R.O.E.S. Academy, a year-round program for adults with special needs in Richardson, TX and is a member of Chamberlain's own outreach dance program, Shining Stars. He is also a figure skater, recently competing and winning in the 2019 Adult Championships in the "Spotlight" Category.
Mr. Hart expressed interest in playing a role in this year's production, and will appear in the opening act of the Party Scene. He is extremely familiar with The Nutcracker production, as his sister, Mallory Hart Hannan danced as a member of the Chamberlain Ballet Company for six years and performed in 11 annual productions of The Nutcracker.
His parents, Susan and David Hart, have been long time supporters of Chamberlain Ballet, serving in many capacities. Susan has served as Production Manager for The Nutcracker Production in the past, and currently serves as volunteer liaison for Shining Stars. David has served on multiple committees and was a former Chamberlain Ballet Board Member. Between the volunteer support of his parents, and his sister's dance roles in Chamberlain productions prior to her high school graduation, Michael has years of experience with Chamberlain Ballet. He joined the Shining Stars program in 2018.
Shining Stars is just one of several outreach initiatives created by the 35-year-old local ballet company.
"We strive to offer the community at large opportunities in fine arts with our outreach programs. When Michael expressed interest in performing, we were thrilled to make him a member of our Party Scene cast," said Artistic Director and Founder, Kathy Chamberlain. "And, this is not the first time a Chamberlain Shining Star member has joined the cast of the local production. Several of our Shining Stars students have shared the stage with our Company Dancers, Nutcracker Cast, and our New York City Ballet Guest Artists in prior years."
Chamberlain not only offers dance classes for children and adults with special needs through the Shining Stars program, they also offer after-school dance programs to other area non-profit organizations. The performing arts company's outreach program actually started with The Nutcracker. In 1991, Chamberlain Ballet offered the Collin County and Dallas-Fort Worth area a free benefit performance to the underserved community and has continued every year since.
"Our goal is to fill the performance hall for each community outreach benefit," offered Chamberlain Board of Directors President, Julie Foughty. "We have invited clients of over 50 area non-profits to attend this year's full-length benefit performance, which precedes the Friday night opening performance."
Sister Mallory will undoubtedly be reliving her former performance days with Chamberlain Ballet, at the Friday, November 29th opening evening performance, while she cheers on younger brother Michael in his Nutcracker debut.
Your family can join the Hart family in applauding the performances of Michael Hart, Tiler Peck, Tyler Angle and the entire cast and crew of Chamberlain's The Nutcracker this Thanksgiving weekend, at one of three public performances held at The Eisemann Center in The Grand Hill Hall from Friday, November 29 thru Sunday, December 1. Ticket information can be found on the Chamberlain Ballet website.
About Chamberlain Ballet
For the past 35 years, Plano-based Chamberlain Ballet has been building Classical Foundations for Life® through performances, education and outreach. Founder Kathy Chamberlain created the non-profit as a way to increase performance opportunities for young dance students in the community. Over the years, the company has added educational support to the communities in the Collin County and Dallas-Fort Worth area. They created an outreach program, providing access to benefit performances for their major performances. The company has also continued to support the local municipalities, as they strive to grow the cultural arts and enhance their communities.