Independent Filmmaking Excellence Showcased at the 2019 Marina del Rey Film Festival
Marina del Rey Film Festival screens over 250 independent films from around the word in Los Angeles.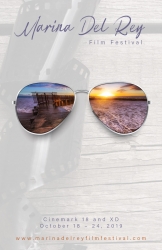 Los Angeles, CA, November 02, 2019 --(
PR.com
)-- Anyone who has been to the Marina del Rey Film Festival can tell you about the amazing contemporary independent films that were screened there last week; each one unique and rich with character. "The films reflect the creativity, hard work and passion that the filmmakers apply to their art," said Jon Gursha, Festival Director. Talented filmmakers from around the country, and internationally, showcased their extraordinary work at The 2019 Marina del Rey Film Festival that ran October 18- 24 at Cinemark 18 and XD, located in The Promenade at Howard Hughes (HHLA). "This year's festival proudly screened over 250 distinctive films ranging from shorts to full length features," added Peter Greene, Program Director. The following are some of the memorable highlights from this year's festival...
Fate Alchemy
Directed By: Ace Blankenship
Produced By: JT Hooper
The International Award Winning Film shot in Lancaster, SC has caught the eye of film festivals from all around the globe. This vulgar punk-rock journey follows the mishaps of three close friends who decide to invest their life savings into a jar of LSD. Chaos ensues as Murphy's Law commences until the final frame. The antiheroes carry the film through twists and dark comedic moments as they navigate their way through the anarchy that they have found themselves in. Starring Tweed Manning, Ken Blankenship, Jeffrey Jordan, and written & directed by Ace Blankenship.
Crying F.U. Lady Rap
Directed By: Patricia Ceasar
"Crying F.U. Lady Rap®" is a comical look at Pat's heart felt tears from election night Nov. 2016 through today. Pat now proudly wears those tears as a badge of honor in a comical visualization of lies and broken promises told by this current administration living in the White House, that will adversely affect people who live in this country to the point of sheer madness. She's asking all of us to exercise our right to vote to stop the liars and this insanity. It has won an Indie Fest Film Award of Recognition & Best Mixed Media Short @ Silver State Film Festival. A sequel is coming in 2020 called "Crying Lady Whitehouse Rap®TM"
Indomitable
Directed by Linda Sanders
Connection to nature and human potential. A short film about the world's toughest foot race on earth.
Call Me
Directed By: Arek Zasowski and Maegan Coker
Call Me is an intriguing romantic comedy about Dr. Vince Williams (Arek Zasowski) and fashion model Julia (Maegan Coker), connected with each other by an old mysterious cell phone which Vince found on the ground in the forest. Whilst examining the handset's contacts list, Vince discovered that it contained only one contact name mysteriously entitled Call Me. Directed by Arek Zasowski and Maegan Coker, Call Me, in a unique way challenges the existing standard filmmaking models by pioneering collaboration of the artists across the continents, over the internet, and exploring new ways that films can be made.
My Marina
Directed by Anjeli Jana
Fall in love with L.A.'s Marina. My Marina is Director Anjeli Jana's debut short film, and her performance of her original song "Stranger Star" is the soundtrack. This film attempts to capture the experience of succumbing to the poignant and potent beauty of Marina del Rey.
Gam Cam Grrl
Directed By: Michael Paul Girard
A new feature-length comedy from Michael Paul Girard, writer/director of cult classics Getting Lucky, Body Parts, The Perfect Gift and Oversexed Rugsuckers from Mars. Starring Roger Wan, Dani Savka, Ellie Patrikios, Monique Parent, Heidi Luo, this off-beat rom-com spans the globe in a story that unfolds in Los Angeles, New York and Moscow. While in the midst of a whirlwind romance with stand-up comedienne Karol (Dani Savka), Shane contacts Cami (Ellie Patrikios) who lures him to Moscow to help her commit the crime of the century. But that is only the beginning of what the cunning Russian sexpot has in store for him.
Train Stop
Directed By: Auden Bui
Produced By: James Babbin and Laura Hauschild
In the film, two busy professionals confront their undeniable attraction and their personal demons during a chance encounter at a train station. Produced by Laura Hauschild, directed by Auden Bui and written by Mark Cornell, Train Stop stars James Babbin (who also served as executive producer) and Sage Porter as the two "strangers on a train." Cinematographer Matthew Halla, Composer Maria Newman and Music Director/Supervisor Scott Hosfeld complete the creative team. "Chance encounters have become part of our culture as our lives are so fast-paced yet often lonely," says director Bui. Mark Cornell's script captures a segment of time where anything can happen.
The Guitar
Directed By: Michael Boston
Aaron, 9 years old, is in deep trouble. He has skipped school, gone downtown to find his father a perfect gift, only to get lost and must return home after dark before he spots a yellow guitar in a dark alley... in the arms of a homeless, heroin-addicted former rockstar. Cast: Michael Boston, Thaddeaus Ek, John Haegele, Shanna Leigh Yancsurak.
Imposter Society
Directed By: Ezra Albarran
Produced By: Zeke Hindle
Up and coming celebrity lawyer Evan Faber has his whole life ahead of him. Being stalked by his client, Evan becomes the target of an evil and sinister plot against him, where his very mind and body may be claimed. This story is part of a complex universe that fits into the realm of cosmic horror. It also flirts with the ideals of modern society and the pressure to have to be someone we do not wish to be because of economic and social constructs.
Aspire to the Sky
Directed by Dilip Khatri
"Aspire to the Sky: The Wilshire Grand Story" is a unique doc about the tallest building in Los Angeles, constructed over an active seismic fault, that demonstrates the incredible contribution of our profession of Structural Engineers and Architects that pushes the envelope of design by "Making the impossible -- possible."
The Witching Hour
Directed By: Steven La Morte
Produced By: Thom Michael Mulligan, Rian Bishop, and Lizet Benrey
Thom and Lizet decided to write both his and her experiences which blended fluidly into one human and deeply moving story. The Witching Hour emerged from a scene Thom witnessed between his parents as a child. This scene was deeply engraved in Thom's memory throughout his life. A love story in its core, The Witching Hour is told through dialogue, unspoken words, and it develops in only one location. It explores the trials and tribulations of a rocky marriage that is about to fall apart, as well as the deep love the protagonists feel for their baby girl Marie, who was born with a disability. The short film walks the line between love and hate, truth and distrust, and the profound desire to save what once was a pure and ideal love.
Don't Point
Directed By: Bryan Bostic
Taylor is a newly transferred detective to the Los Angeles sheriff's department homicide bureau. He is partnered up with veteran detective Tim Greenwood to guide him through his first case. Their first case involves the brutal killing and dismembering of gang police informants in Compton. After checking out the latest murder, the two hit the streets in search of leads. After each encounter they get further away from tracking down the killer. Taylor gets information that leads him to believe that he is close to solving the case. They both find out that some cases aren't meant to be solved.
Ladies Most Deject
Directed By: Martha Elcan
Produced By: Mark Salyer and Melissa Palmer
Co-written and starring UCLA student Conner Wharton and directed by Martha Elcan (Next of Kin), Ladies Most Deject tells the story of an Appalachian teenage girl, Charlie, who must protect her younger sisters and brother from the chaos her addict mother brings to their home. The film was shot entirely in Wharton's hometown in Central Appalachia and features cinematography by Helen Cho Anthos and a production design by Kleev Guessford. Producers are Aray Productions' Mark Salyer and Melissa Palmer with sound design and music by Brian Hawlk and editing the Emmy Award winning Nena Erb. Robin Mullins and Pepper Binkley also star.
On the Edge of Reality
Directed By: Frank J. Dion
Produced By: Fiona Lincke, Frank J. Dion, Gavin X. Clement
On the Edge of Reality" is a story of a physical therapist who overcomes addiction (self-medicating himself with a vapid supply of unused pills left by his senior homebound, attention-starved patients). This divorced, relatively "good-guy" can't seem to see past his nose a lot of the time, and actually starts to see the ghost of his ex-wife popping in and out of his bathroom mirror. Clueless, freaked out and thinking he's the next to die, he helplessly watches as his patients drop off one at a time on a daily basis. He starts to find the strange light he has always been lacking and a new gusto for life, with the help of his funny old dad; who knows more than his son thought he did.
Malign
Directed By: JP Edwards
Produced By: Paula Edwards and JP Edwards
In a frantic rage, Trish's mind becomes her battleground as she searches for answers to eliminate her past. Will she win the battle we call life, or will this loving family be divided.
The Moon Smells Like Gunpowder
Directed By: Mark Solter
A surveillance specialist finds both his personal and professional worlds on an unstoppable collision course. On his final assignment traveling from Australia to the American southwest, his decisions will come under question, his movements will be tracked and ultimately retribution dispatched.
Room 566
Directed By: Dylan Snyder
Produced By: Bob Morrison
Inspired by a crippling fear of hospitals, Room 566 blurs the lines between nightmare and reality. The newest project from the award-winning filmmakers at Watch The Footage Productions, Room 566 immerses viewers in a world of paranoia and superstition as we witness the protagonist's anxieties consume him.
The Faces From Mars
Directed By: Ryan Barnes
The Faces From Mars is a short feature directed by Ryan Barnes. Filmed in North Hollywood, the film features groundbreaking performances from various actors and recently won Best Sci-fi Short at the Silicon Beach Film Festival. It questions the irony of space exploration considering the problems we face here on Earth and the inherent scientific risks of a Mars Colony.
I am Bansky
Directed By: Samantha Casella
The mystery that envelops Banksy's identity has undoubtedly helped make the British artist a mysterious, fascinating figure. His works recall themes related to the absurdities that characterize Western society, the media manipulation, the homologation of individuals, the atrocity of war, pollution and child exploitation.
Tristan and Kelly
Directed By: Sarah Ann Masse and Nick Afka Thomas
The unusual romantic dramedy Tristan & Kelly - starring Toby Sebastian (Game of Thrones, Trading Paint) and Sarah Ann Masse (We Are Thomasse, Have It All: The Movie) - gives viewers an intimate peek into what happens when the uncertainty of young adulthood combines with the complex dynamics of male/female relationships. Filmmaker Masse is a hilarious woman on a mission and an outspoken voice for women's rights. Masse is one half of the hit British-American comedy duo We Are Thomasse and the producer behind all of their viral videos, including the series she wrote for and acted in with Grammy winner and Broadway actor Jason Mraz.
Extra Innings
Directed By: John Gray
Produced By: Melissa Jo Peltier
Extra Innings is a short film written and directed by John Gray, creator of the long running CBS TV series Ghost Whisperer, and writer-director of the indie feature White Irish Drinkers, which premiered at the Toronto International Film Festival. Extra Innings stars Peter Riegert and TJ Thyne. Riegert is best known for his starring roles in Local Hero, Animal House, Crossing Delancy, and The Sopranos. Thyne co-starred in the long-running hit TV series Bones.
The Crossing
Directed By: Thomas Haley
The Crossing" Written, Produced and Directed by Thomas Haley, is a 15 minute edge of your seat kind of short film, it opens with a happy couple (Kevin Caliber Future Man, Ugly Sweater Party) and (LaraJean of Lilith, Space, Payday) on their way to Vegas to get married that ends with a bang, Bang, BANG! We meet Melissa (Brooklyn Haley of Bearry, Camp Twilight, Vengeance) a heart broken young woman heading back to her hometown to return her engagement ring. She is picked up by her Ex-Fiance's brother Travis (Charles Chudabala of Ugly Sweater Party, Lilith) who clearly has a thing for Melissa. They meet up with "The Bride" (Victoria DeMare of the Killjoy Franchise) literally by accident! The last set of lovebirds to cross paths with "The Bride" are (Felissa Rose of Sleepaway Camp, Victor Crowley) and (Michael Wainwright of Lilith, Lockdown, Bearry) a waitress and cop engaged to be married, what could go wrong when they discuss their honeymoon while responding to a report of an accident at The Crossing? An H2 Crew Production.
Homeless Street Artist
Directed By: Tysen Knight
Homeless Street Artist follows the lives and day to day struggles of Skratch, Catherine, and Will, three homeless artists living in Palm Springs, California. This film smashes the stereotypes regarding homelessness and homeless people and reminds us that we are all human, no matter what our current living situation.
Martinis at the Smoke House
Directed By: Joe Toppe
Produced By: Jake Rice, Jennifer Stewart and Lee Dawson
The famous Smoke House Restaurant in Burbank has been serving martinis from the likes of Humphrey Bogart to George Clooney for over seven decades. Conveniently located directly across from Warner Brothers Studios, these legendary walls have stories upon stories of Hollywood lore seeped in afternoon cocktails to midnight meetings. Join us for a drink or three.
Intervention
Directed By: Linda Palmer
Produced By: Julia Silverman, Janel Tanna, and Linda Palmer
Intervention is a compassionate look at the opioid crisis and mental health keying in on the struggle of one family. The numbers of the opioid crisis are staggering, claiming approximately 115 deaths a day in the United States. We experience Intervention through the eyes of a young mother who recently suffered a painful revelation. The film also offers a glimpse into the slippery realm of memory loss, how brutal it can be on those who experience it as well as on the loved ones who watch the decline.
White Christmas
Directed By: Jeff Kanew
Produced By: Camryn Kanew
Nikki and Jason are young and attractive. They met in rehab. She's a heroin addict. He's only dabbled in cocaine until Christmas eve. Jason decides to experience smoking heroin to see why it's more important to Nikki than their relationship. They are also dependent upon financial support from her wealthy parents, and must attend the parents' holiday party, even though they're still high. It's a challenge...but they seem to be handling it -- until a cousin tells
Nikki a family secret that could either change their lives....or destroy them.
House of Redemption - Hear Me
Directed By: Tammy Klembith
After being lured in myriad ways to a certain house, guests check in but can't leave without being forced to face their past actions and ultimately themselves. We all have secrets... But even when we try to hide from the truth, it still exists... haunting us. In a world where deception and duplicity abound... Where people think they can get away with anything... In this house, actions have consequences. The opening chapter in this psychological horror anthology takes a young traveler on a seemingly innocent getaway that turns into a nightmare, as she is forced to face her own brutal truth.
CAMP KENNEBEC: THE HISTORY
Directed By: Glenn Goldenberg
Produced By: Robert Merz
Camp Kennebec, an overnight summer camp for boys ages 9-16, was established in 1906 in North Belgrade, Maine, by three Philadelphians, Louis Fleisher, Charles Edwin Fox, and Milton Katzenberg. In July 1907, the first campers arrived at Camp Kennebec, located on Salmon Lake. Campers hailed from east coast and midwest cities, including Philadelphia, New York, Boston, Cleveland, Baltimore, Cincinnati, and Chicago.
The Lost Treasure of the Valley
Directed By: Robert Husted
Produced By: Jon Sklaroff
Lost Treasure of the Valley is a magical adventure-comedy, set in the action-packed terrain of LA's San Fernando Valley. When Jake (Everardo Barriga) is forced by his roommates (Lori Beth Denberg of Nickelodeon's "All That" and "The Steve Harvey Show", Tyler Nash) to look for a job, he's forced to put his true passion on hold: documenting all of the Valley's abandoned shopping carts for a photo book. But his entire world changes one day when he's rescued from an attack by a local gang by a gritty adventurer (Greg Lee, host of PBS's "Where in the World Is Carmen San Diego?"), who convinces him that the Valley's shopping carts actually point the way to a hidden cave off of Sepulveda Blvd., containing a lost treasure. Their quest leads them to the outer limits of the Valley, where they discover that obtaining the treasure isn't so easy - it's protected by a powerful shopping cart guardian (Brad Gilmore), and a man-eating dragon! Crowdfunded by a legion of devoted believers, Lost Treasure of the Valley is a rollercoaster ride of adventure, with influences ranging from "Repo Man" to "The Good the Bad and the Ugly" to "Calvin and Hobbes", and begs the question: what if the ultimate treasure hunt involves finding the treasure within yourself?
Sammy
Directed by Dana-Lee Mierowsky Bennett
Produced by Rachele Wiggins and Enzo Tedeschi (EP)
Sammy, the short film follows a ten year old girl displaced from war who struggles to build a hot air balloon so she and her little brother can find their parents.
Shot in Sydney Australia, Sammy stars Coco Jack Gillies, Health Jelovic, Rob Flanagan, Harry Pavlidis and Tanika Douglas.A Dlmb Production in association with Deadhouse Films, Sammy is Written and Directed by Dana-Lee Mierowsky Bennett and produced by Rachele Wiggins with Executive Producer Enzo Tedeschi. Sammy is a snippet into a feature film Dana-Lee is developing. A draft for the feature was longlisted for the Prime Time ScreenWriting Competition run by Screen Australia and the Australian Writer's Guild. Sammy will be available to watch online in the US through Boyish and online in Australia's through Ozflix. The short is currently available on Vimeo.
The Rhino Cup
Directed By: Myles Pizzey
The Rhino Cup is an eye opening documentary that highlights the ongoing rhino poaching crisis in South Africa, as well as a unique way of tackling it - through a football league in rural Mozambique. It's entertaining, it's educational, it's inspirational and it's emotional...and its ultimate goal is to stop poaching through football - before it's too late.
Trust Issues
Directed By: Andretti Dante
Produced By: Syngman Stevens Jr.
Charlie and Megan, a couple who's madly in love are stranded in an unforgiving desert and bleeding out. Charlie must now lean on Megan to lead him across the border as they attempt to flee authorities. But as the sweltering sun beams down on their weary bodies trust issues start to surface that threaten the very fabric of their ride or die relationship. A shocking truth is revealed along with the harsh reality that only one of them will make it out of this grueling desert alive.
The Marina del Rey Film Festival is an independent film festival located in Marina del Rey, Los Angeles and is currently in its eighth year. The festival provides independent filmmakers from around the world a platform to showcase in the film capital of the world Los Angeles in high quality settings. The Marina del Rey Film Festival was founded by Jon Gursha and Peter Greene. Marina del Rey provides filmmakers from around the world a high quality setting for this extraordinary event. To learn more about the Marina del Rey Film Festival, please visit: www.marinadelreyfilmfestival.com
Contact
Marina del Rey Film Festival
Jon Gursha
818-633-5404
http://marinadelreyfilmfestival.com/
Marina del Rey Film Festival
4640 Admiralty Way Suite 500
Marina del Rey, CA 90292

Contact