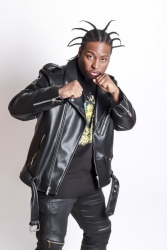 New York, NY, November 14, 2019 --(
PR.com
)-- Young Dirty Bastard is no new face or newbie to the music industry. BarSun Jones, a.k.a YDB (Young Dirty Bastard), will release his debut single, "BarSun," on Nov. 15. YDB is not only the son of Old Dirty Bastard, but he's known for his capricious character on WE TV's GUHH NY. BarSun is one of the first tracks off of his EP, titled, "YDB," a superb production by the legendary "Lordz of Brooklyn." Young Dirty Bastard delivers a meaningful, intense delivery over the superb production by the legendary "Lordz of Brooklyn." On the new track, "BarSun," he shares his story as an everlasting journey through the entertainer's life and his journey with his family. This track will bring you closer to him and will bring you deeper into Young Dirty Bastard's world. His connection to his father's legacy on this song will resonate within the hip hop community. At this time, YDB is building an empire, thinking outside the box while still delivering bars with a message.
On Nov. 15, the wife and children of Russell Jones will present an annual ODB legacy celebration on their father's birthday at SOB's NY with a single release performance by "YDB." November 15 is a very special day for the Jones' family - last year Busta Rhymes paid homage to his fallen comrade by joining ODB's son in a cypher on stage at The Roulette, in Brooklyn, NY, and Rza and the rest of the Wu-Tang Clan looked on. You never know who will perform alongside Young Dirty Bastard during his single release party.
"It's an honor to carry on the family tradition for ODB and the Wu-Tang Clan," states YDB.
Pre-save Young Dirty Bastard "BarSun":
https://ingroov.es/bar-sun-fz
To attend the ODB's legacy tribute and YDB's single release party, email Press@multiartistryent.com for more information.
Follow YDB: @YoungDirtyBastardOfficial
Previous press:
https://www.sheenmagazine.com/were-talking-everything-wu-tang-sheen-sits-down-with-rapper-young-dirty-bastard-to-discuss-wu-tang-tv-series-legacy/
Media Contact:
Avery Watson
Press@multiartistryent.com
347-300-9896